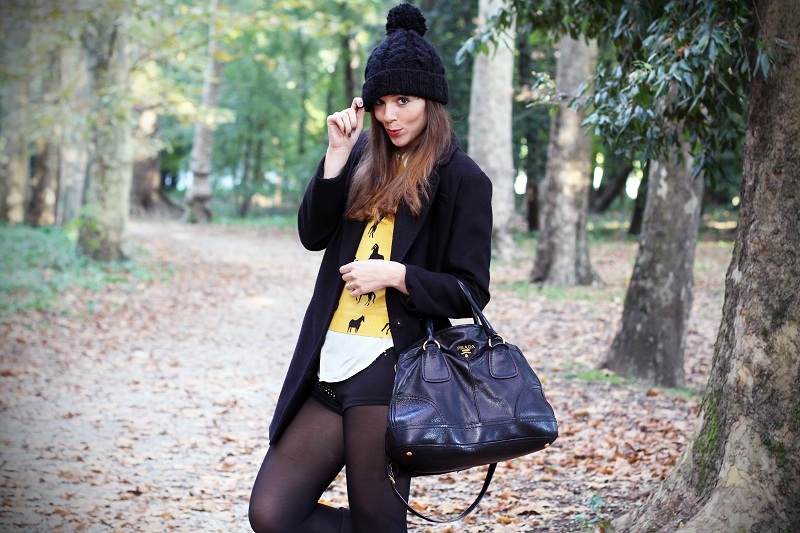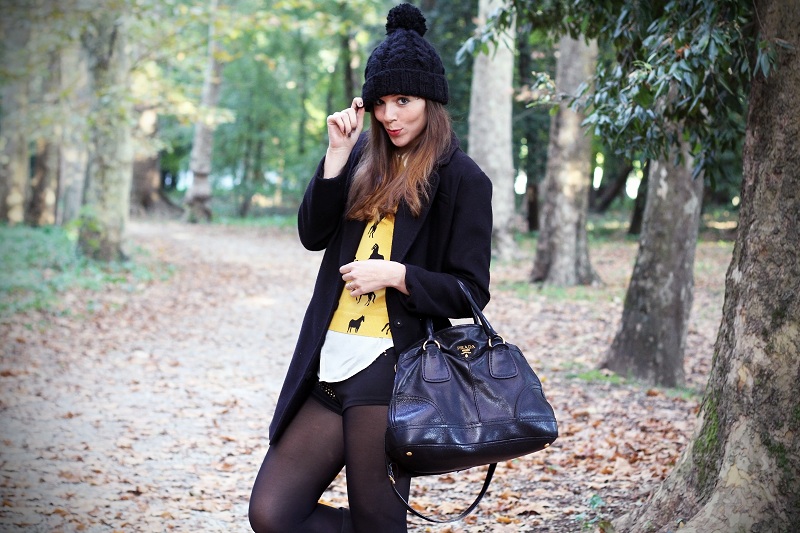 |Hot pants abbinati ad un cappello in lana? Oggi sperimentiamo! Buon sabato!|
Buon sabato girls!! Come trascorrerete il weekend? Io sono già in campagna, nella casona del mio Giova. Il nostro programma per la giornata? Tanto relax, divano, film ed una serata con i nostri amici! E poi, se ce la facciamo, scatteremo anche l'outfit che indosserò stasera (Ho un nuovo vestitino che voglio proprio farvi vedere!). Yeaaa!L'outfit di oggi? Ho deciso di sperimentare un po'! Quando ho ordinato questi shorts online non mi sembravano così corti! Ed invece, appartengono a quella categoria di shorts (chiamiamoli pure hot pants) che hanno invaso le passerelle (Dolce & Gabbana rules) ma che sono non difficili, di più, da portare! Ho deciso però di sperimentare ed indossarli in un outfit super casual! Un paio di calze coprenti (che però per la luce qui sembrano abbastanza velate, boh!), un paio di stivali bassi, un maglione abbinato a camicia un poì bon ton e un cappello in lana con papalina per sdrammatizzare il tutto.Che dite?Un bacione mie carissime, trascorrete una buona giornata!
|PHOTOS| by Giovanni Gambassi
|Hot pants and a wooly hat? Today is sperimental! Happy saturday!|
Happy day girls!!  How about your weekend? I'm already at the countryside at Giova's house. The plan for the day is to relax relax relax and maybe we have time also to shoot the outfit that I'm going to wear this evening for a dinner with friends. Yeyy!
The today outfit? I decided to try something different! When I bought those pants online I didn't know that they were soooo short! And well they are from this kinda shorts (hot pants) that have been part of a lot of fashion shows (dolce e gabbana rulez) but they are so difficul to be worn! I decided to try something different and to wear them with something casual. What do you think?
A big hug girls!!
Condividi