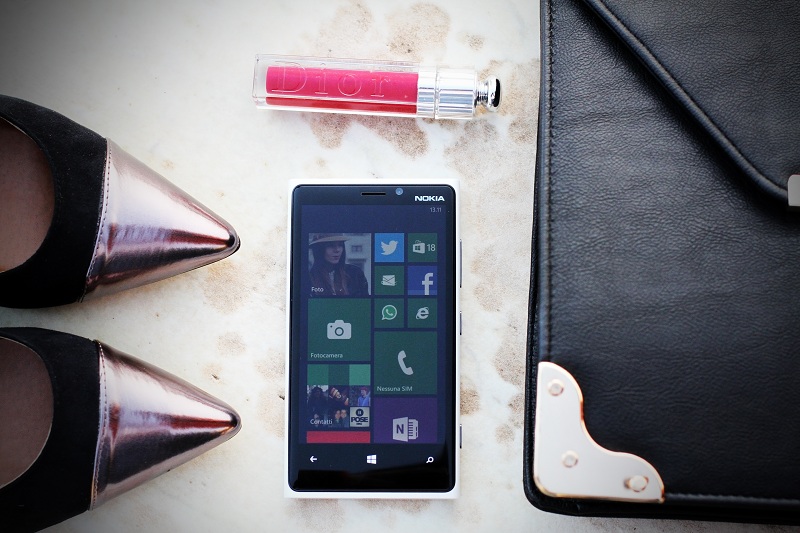 Buona domenica fanciulle! Giovedì mattina sono stata a Milano, come vi avevo accennato sui miei canali Facebook, Twitter e Instagram (@ireneccloset) per un nuovo progetto che mixa tecnologia e fashion!
Dunque oggi volevo presentarvelo :D Ho avuto il piacere di incontrare e conoscere i team Italia di Windows phone, Nokia e Vodafone, partners di un unico grande progetto: il nuovo Windows Phone Nokia Lumia 920 con una connessione 4G by Vodafone super velocissima (Ben 5 volte superiore rispetto alla connessione 3G: per capirci, puoi scaricare un film in 2 minuti!)Alcune caratteristiche del Windows Phone Nokia Lumia 920? Tecnologia PureView con fotocamera che si può regolare nelle impostazioni come una reflex, sensibilità altissima anche con poca luce, video in alta qualità con tremore ridotto al minimo (I like!) e personalizzazione massima sia di cover che di schermata principale (Io sto iniziando a personalizzare la mia!) con display Pure Motion. Insomma, un cellulare che si può letteralmente vestire e abbinare ai nostri outfits :DCome vi dicevo, un cellulare che mixa moda e tecnologia: lo strumento che mi accompagnerà durante la Fashion Week: sarà infatti con me durante le sfilate e con questo vi terrò aggiornate live con video e foto sui miei canali social e sul mio blog!
Happy day girls!! A couple of days ago I went to Milan for a project that mix fashion and technlogy! I had the pleasure to met the italian Windows, Nokia and Vodafone team, partner of this project: the new windows phone on the Nokia Lumia 920 with a 4G Vodafone connection: super fast!This is a super phone: a great camera, cool videos and a personalized desktop! And a lot of nice features! The item will stay with me during the Fashion Week: can't wait to try it out!
Condividi