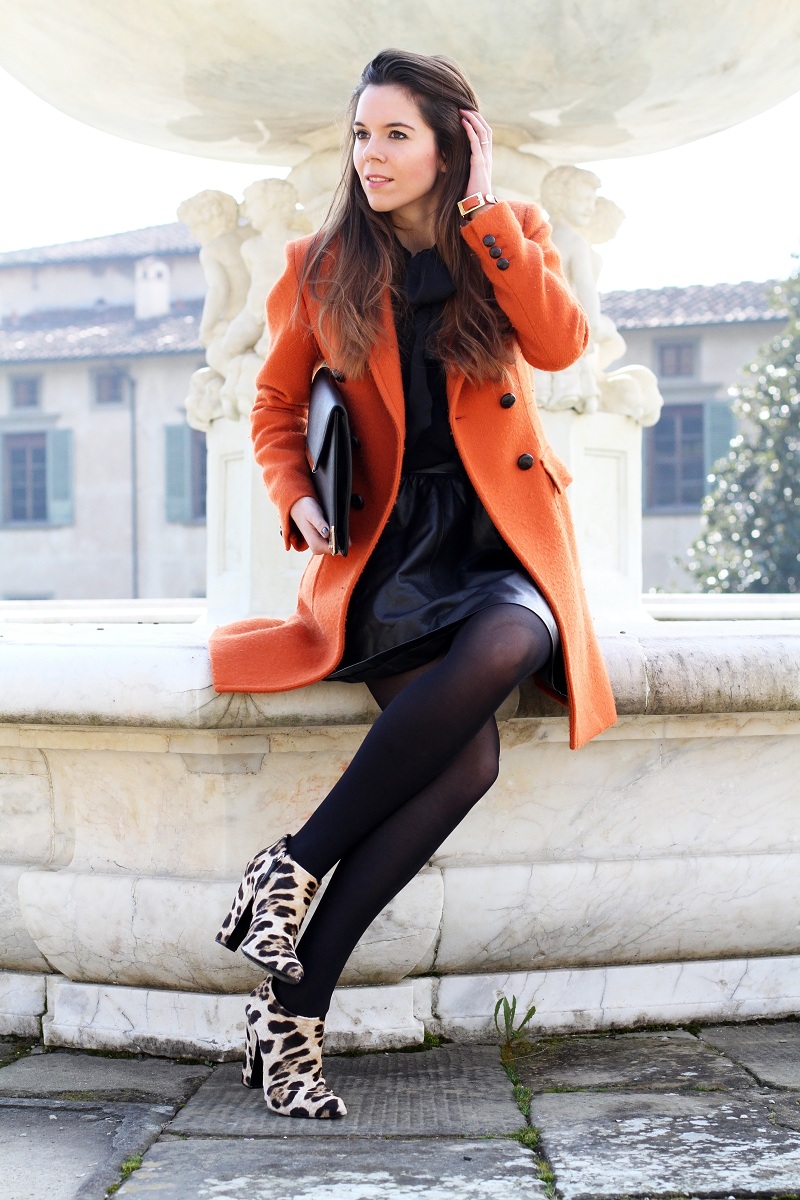 Buongiorno e buon lunedì mie care! Avete passato un buon weekend? Sulle colline di Firenze, questo weekend, sembrava sbocciata la primavera: che bellissima sensazione passeggiare senza cappotto annusando i primi profumi di primavera! Questo clima, dunque, è stato più che benevolo con il mio Giova che questo weekend ha compiuto 25 anni con un festeggiamento che da venerdì è perdurato fino a domenica tra feste e cene, pranzi e sorprese tra le quali una cena con delitto organizzata sabato sera con tutti i nostri amici: ci siamo divertiti come dei matti!
Prima del pranzo di compleanno con la famiglia abbiamo fatto un salto ad una delle meravigliose ville medicee che si trovano nella nostra zona e che diventano da lasciare senza fiato durante la stagione primaverile: proprio di fronte alla grande fontana di marmo bianco che brillava riflettendo la luce del sole, abbiamo deciso di scattare le foto dell'outfit che indossavo per l'occasione!
Ho indossato nuovamente i nuovi tronchetti di Giuseppe Zanotti presi su Gasmy.it abbinandoli ad un look un po' diverso rispetto al look rock dell'altra volta, vi ricordate? Dunque un cappotto arancione, leopard e pelle per un look comunque chic. Che ne dite?
Un abbraccio forte e come sempre aspetto le vostre opinioni!
|PHOTOS| by Gabriele Colzi
Happy day girls!!  How about your weekend? On the Hills of Florence the spring seems to be blowed up: a great feeling to take a walk without coat! And well a wonderful temperature for my BF Giova birthday party that took place.. from friday night tu sunday! 25 years old! Before lunch we relaxed a bit at the Medicean Villa: it becomes really stunning when spring come! There we took some pictures of my outfit: again I was wearing my Zanotti shoes bought on Gasmy but on a totally different outfit. What do you think? Let me know if you like this look!
|MY LOOK|
SHOES:
 

GIUSEPPE ZANOTTI

 bought on 

GASMY.IT
SKIRT: 
H&M
SHIRT: 
PEPE JEANS
COAT:
 ASPESI
BAG: 
STRADIVARIUS
MAKE UP: 
DIOR
Condividi