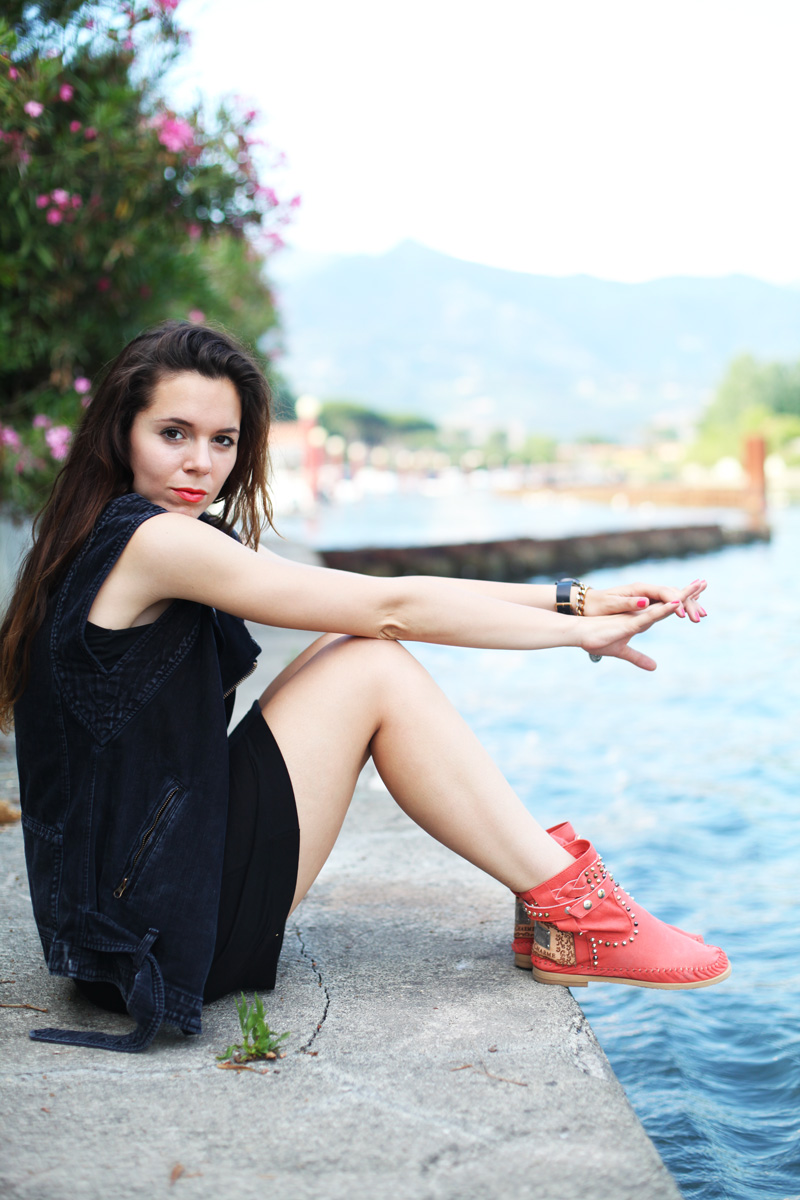 Aperitivo Forte dei Marmi in un momento di pazzia
Aperitivo Forte dei Marmi. Un salto a Forte dei Marmi per l'aperitivo. Ecco cosa abbiamo fatto alcuni giorni fa io e Giova, presi da un impeto di pazzia. In realtà la Versilia per noi è davvero comoda: un ora o poco meno e siamo li! Così, presi dalla voglia di un aperitivo sul mare e di un tramonto sulla spiaggia abbiamo preso la macchina e siamo partiti. Per me la Versilia è l'oasi di relax marittimo accanto a casa.. quindi potete capire quanto io sia stata bene quella sera :) Prima di buttarci nella mischia abbiamo scattato le fotografie che vedete oggi.
Aperitivo Forte dei Marmi con Karma of Charme
I protagonisti assoluti del nostro aperitivo Forte dei Marmi sono gli stivali di Karma of Charme: il colore corallo lo trovo davvero bello (Poi riprendere il mio rossetto!) e la qualità è altissima. Ne avevo già indossato un paio nel deserto australiano, vi ricordate? Gli stivali, essendo completamente cuciti a mano con materiali di prima qualità sono adatti anche al clima caldo (QUI  LI PUOI COMPRARE ONLINE). Che ne dite del mio look? Vi abbraccio forte e grazie di seguirmi sempre :)))
(ENGLISH TRANSLATION AFTER THE GAP)
A jump to Forte dei Marmi for the aperitif. The boots by Karma of Charme star as the absolute main character: I think their coral red color is really beautiful and the quality is very high. They are completely hand-sewn with first-rate materials so they are also suitable for a hot climate (HERE YOU CAN FIND THE ENTIRE COLLECTION AND THE ONLINE SHOP). What do you think about my look? I hug you tightly and thank you for always following me :)))
BOOTS: KARMA OF CHARME |Li puoi comprare QUI
GILET: | Ne ho indossato uno simile QUI
NECKLACE: PRIMARK | Le ho messe in QUESTO post
BAG: BALENCIAGA
♥
VOGLIA DI LEGGERE ANCORA DI PIU'?
Un altro look con un gilet in denim
Stivali Karma of Charme nel deserto australiano
Stessa collana ed un post in costume da bagno
Condividi