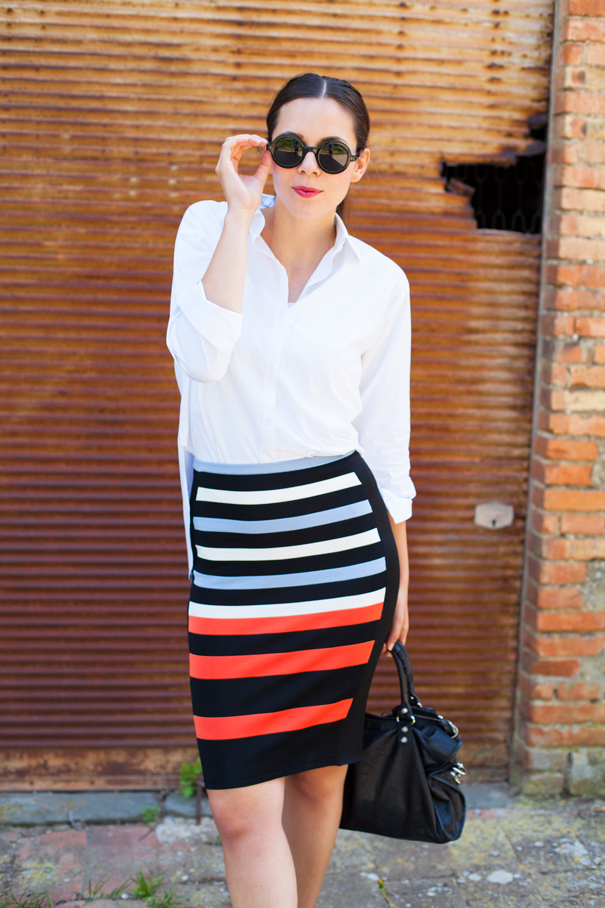 White Shirt and Striped Skirt: What I'm Doing in Milan…
White shirt. Hello girls and happy Wednesday! I'm back from a weekend in Barcelona where I've been living 4 amazing days with Clarins and 7 bloggers from all over the world: I'll be the face of 2016 Clarins digital campaign… I'm reeeally happy…and curious to see how it goes! Now I'm in Milan for three days and two super interesting projects, for me and I hope for you too, since you're going to read abut it on my blog, very soon! The first one is a photo report from EXPO with OVS, it will go on till September and I'll keep you updated posting summarizing video and photos from the coolest pavilions (Have you got any advice?!) Get ready to have fun! The second thing is tonight… to find out live what I'm up to visit  my Instagram page @ireneccloset :)
White Shirt and Striped Skirt for a Day With My Family…
–
Today's outfit is the one I chose for my nephew's party: a great (Italian) lunch with all my relatives, featuring a sweets overdose (I couldn't resist!). I decided to match a classic white shirt with a colorful stretch skirt and black accessories, easy and comfy. A pair of black sunglasses and that's it!
What do you think?  Besos my friends!
If you want to read more..
Watch my video from the Guadeloupe Islands (4 minutes!)
White Shirt: some ideas to match it!
How to dress for a first communion cerimony
VIDEO: 10 items that cannot miss in our closets this season
–
Follow me live on INSTAGRAM! :)
I'm @ireneCCloset or go on  www.instagram.com/ireneccloset
Condividi