Balayage and Long Hair Routine: My New Hair and Some Tips!
Balayage. When I told you about my good resolutions for September, I wrote that one of the goals to set after the end of holidays, by the end of September, was to fix our manes with new colors, new cut and intensive treatments… and I was very interested in Balayage, a technique for highlighting hair in which the dye is painted on in such a way as to create a graduated, natural-looking effect. So finally I did it! Taking care of long hair is extremely important! A few days ago I renewed my long hair. I made an appointment in Milan with Pier Giuseppe Moroni, artistic director for Wella Professional. I'd already had the pleasure of meeting him for THIS and THIS color and when I worked with Wella a few years ago (HERE). Every time I need to dye my hair and I want to step out of the salon feeling amazing, I know that the person for this job is Pier Giuseppe: he always understands what I want and does it better than I expected. He uses the incredible Wella Professional Colors, which have a natural-looking effect, they're not aggressive and last longer!
Balayage and  Long Hair Care: Secrets, Tips and My Hair Routine!
–
When, some days ago I went to Pier Giuseppe Moroni's Salon without a clear idea in my head, except for Balayage (Maybe you read it on Instagram HERE). We made a decision together: no cut (my hair were still very healthy so I didn't need one. I'll tell you why later! Yay!), only an interesting color retouching: Balayage. This winter I dyed my hair black (QUI) but in summer my old color reappeared on the roots. And I have to admit that I really liked those lighter locks… they light up my face! So Pier Giuseppe Moroni enhanced my natural highlights coloring some strands, starting from the roots with the same color (in order to uniform it so it doesn't look too different) then he enlightened of just one tone the strands that were closer to the face to make it brighter! You can see the result in the photos: I can't be happier!
And now some tips to take a good care of your long hair… or I should say: my hair routine! I hope you'll find it useful :)))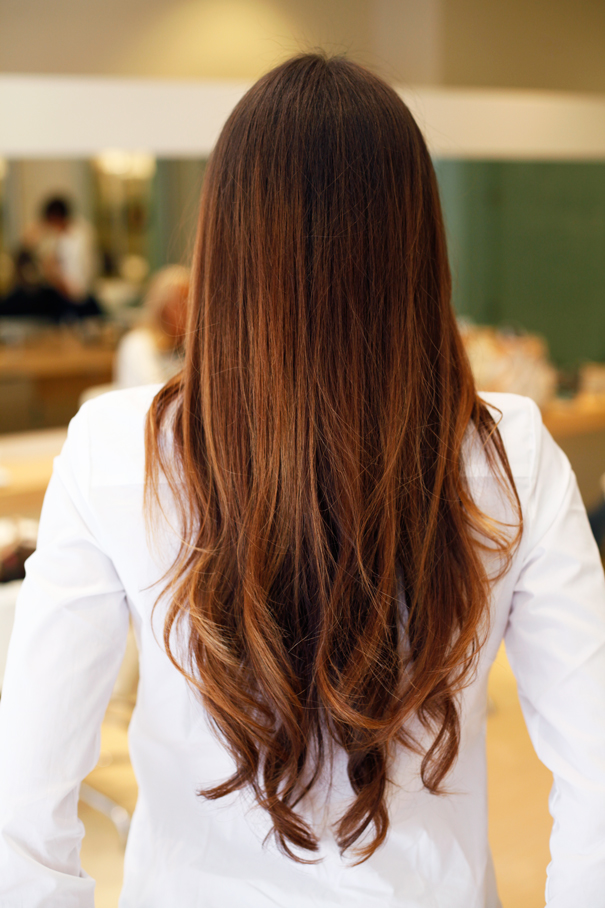 Besides telling you about my new mane, I'd like to give you some tips to take care of your long hair. That's basically what I did in the last few month and what took scissors away this time (a dream came true for my long hair!):
– I use two different kind of shampoo: having such long hair I have to use two different kinds of shampoo. One for roots, not always the same, it depends on the problems I'm having (dry or oily scalp; if I want to strengthen or give more volume…) I like to change! On lengths and ends I use a shampoo for damaged hair (even if your hair is OK it can give an extra boost!).Try one with Keratin or hydrating or nutrient oils!
– Never forget the mask!: at least once a week, leave it on for 15 minutes or more. If I stress my hair more (with too much washing, curling iron and hair straightener) I do it twice a week. Be abundant and apply it after dabbing the hair with a towel. While the mask is on, you should brush it through your hair with a wooden comb ( just after you apply it)!
– After brushing my hair, just before blow-drying I always apply  nutrient drops on all hair length (e.g. Wella Luxe Oil!), a bit more on the ends (e.g. Wella Luxe Oil!) I apply it again after drying.
– I always apply a thermal protectant spry before using straightener or curling iron! Never pass them on the same lock two times consecutively. Wait until it's cold!!
– When I don't wash my hair, before going out or right after I straighten my hair, I usually apply an oil for dry hair: with hydrating and nourishing proprieties.
– It's actually better if you sleep with your hair up.In this way you'll avoid hair breakage! Make twisted braids or (like I said HERE) or an high bun. Avoid elastic bands that ruin hair. Use bobby pins to hold all up.
I hope that you'll find this tips useful. Do you like my new hair!? :)))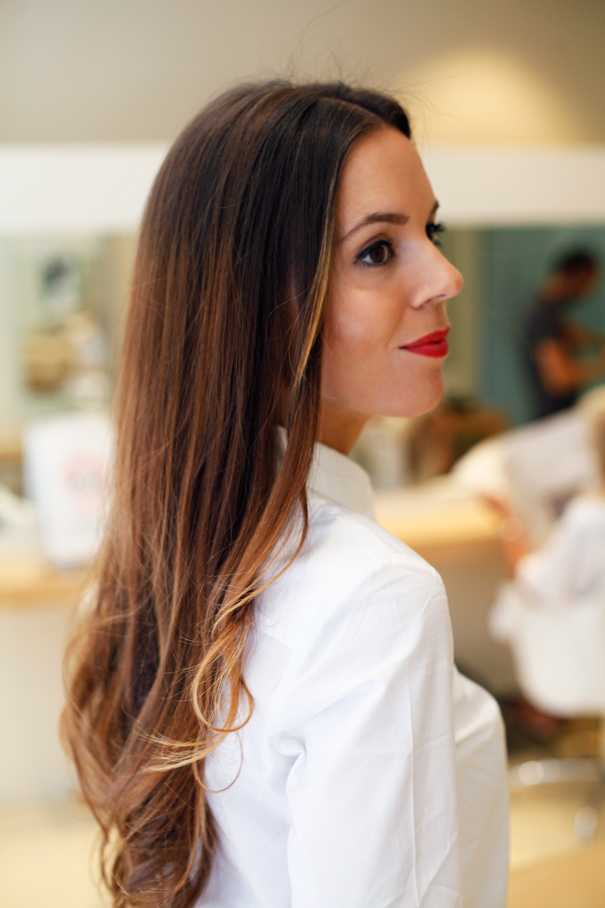 If you want to learn more about hair…
Wavy hair without curling iron… in just one night!
2016 Hair trends: cool colors and haircuts!
Bangs are back! Here's how tu cut it…
Half Top Knot, the hairstyle of this summer: super easy and quick!


Condividi