Breakouts and Skin Imperfections? The Answer is Vichy Normaderm!
Remedy for breakouts and imperfections. When I was a teenager, I couldn't wait to grow up to stop fighting against those hated pimples and all skin imperfections. Sadly, my battle is not over, it's even worse! I already know that my teenage followers are struggling against this kind of skin problems but, what about grown-ups like me that still have issues with imperfections, pores, oily skin and breakouts???
Often, after adolescence, imperfections continues to appear, especially on chin, jaw and neck areas with shine and uneven complexion. Not to mention enlarged pores, spots and dehydrated skin. Bye bye soft teen skin (even with some pimple here and there!)
During adolescence even if you were sick and tired of acne and breakouts, you  had a crumb of comfort repeating yourself "It's just a phase, we're all on the same boat, you have to accept it!". But if you grow up and skin problems are still haunting you, then it's not that easy to psychologically overcome it. When some pimples pop out on my chin I always get mad. Why? Why again!? Why these imperfections on my skin? Is there a remedy? I'm here to talk about that.
Breakouts and Skin Imperfections But You Are Not a Teenager? I've Tried Vichy Normaderm!
MAIN CAUSES OF POST-ADOLESCENCE SKIN IMPERFECTIONS:
– hormonal variations
– genetic predisposition
– bacterial flora
– lack of sleep
– smoking
– stressful lifestyle
– UV radiations
SOLUTIONS
What can we do? Use specific products for this problem, able to minimize imperfections, dehydration, enlarged pores and uneven skin complexion.
So I tried some Vichy products that you've certainly heard of. I've always heard good things about it, so I decided to test the new Normaderm line by Vichy. It's a line specifically designed for all those non-adolescents with skin impurities, imperfections, shine, dehydrated and uneven skin. And that's more!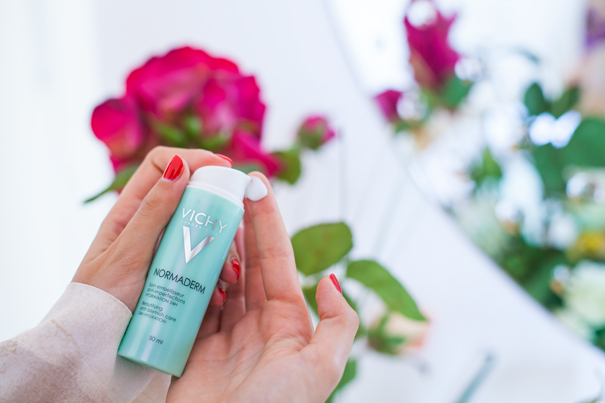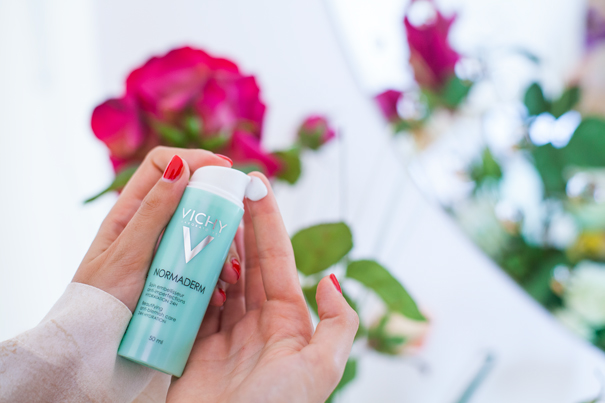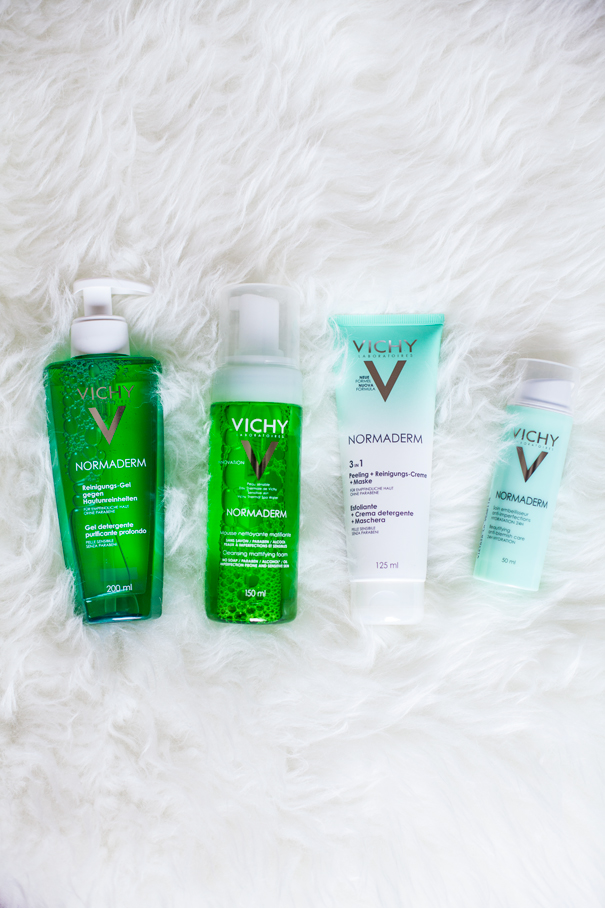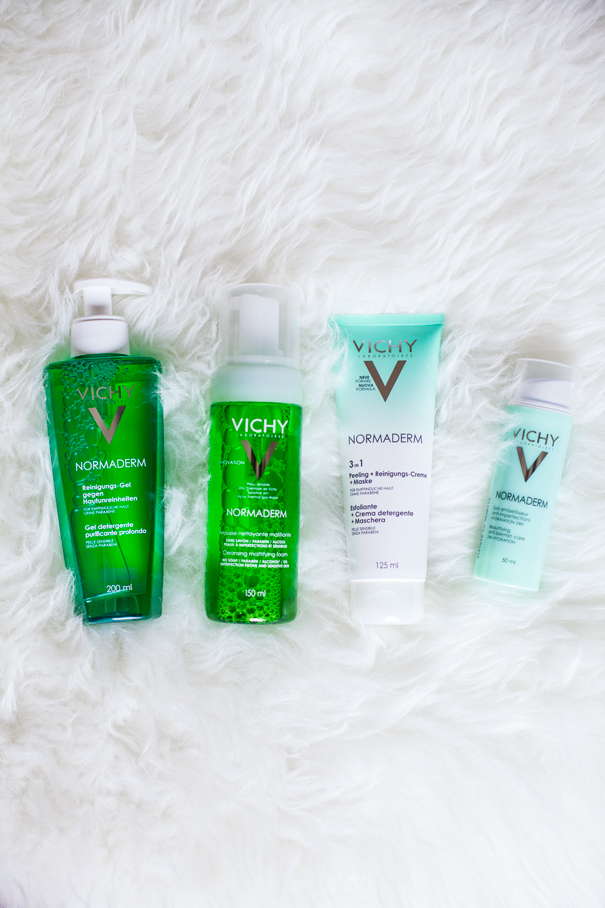 The products that I'm using:
NORMADERM BEAUTIFYING ANTI-BLEMISH CARE 24H HYDRATION
NORMADERM PURIFYING CLEANSING GEL
NORMADERM 3-IN-1 CLEANSER/SCRUB/MASK
NORMADERM CLEANSING MATTIFYING FOAM
This line contains: Air Licium, with 99% air composition, that combats shine and makes pores less evident; Phe Resorcinol to diminish pre-existing stains; salicylic acid with anti bacterial proprieties; LHA with scrub effect; Glycerin to hydrate. I like it because skins results more smooth and soft, pores are actually smaller and imperfections are every day less (but remember that it's up to you to change your lifestyle!). Plus, skins results super fresh and matte. That's great!!
Have you ever tried this kind of products? Let me know what do you think about these skin problems… maybe you have some more tips to suggest ;)
HERE TO SEE ALL VICHY NORMADERM LINE
Condividi