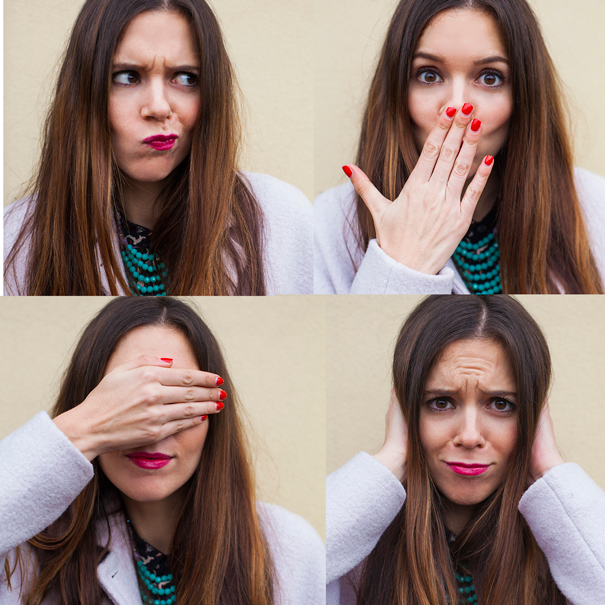 5 Fashion Mistakes That Are Ruining Your Style!
5 fashion mistakes. You often write me asking for advice about your outfits and on how to match the last item you bought during shopping. Sometimes I notice that we make many mistakes that ruin our style! So today I decided to make a list with the 5 most common fashion mistakes that every day ruin our style! Enjoy!
5 Fashion Mistakes That Are Ruining Your Style!
#1 Fashion Mistake: YOU THINK THE MORE SKIN YOU SHOW THE SEXIER YOU ARE
When you want to look sexy you usually think that the better thing is to show some skin. In this way you might look more vulgar than sexy with style. Sometimes you even risk to look out of place. If you want to show some breast be wise and elegant wear a low neck silk blouse end cover the legs with pencil trousers or a pair of jeans. In you want to show your legs, do it, but remember to cover the neckline. For example you can wear a minidress with long or 3/4 sleeves. If you want to enhance your curves, you can wear a pencil skirt and a pair of super high stilettos.
If you want to learn more… 
My GUIDE on how to stay warm in style!
MY GUIDE TO SALES: 10 items you shouldn't miss during this season sales!
#2 Fashion Mistake:YOU THINK MAN'S CLOTHING IS ONLY FOR MEN
First man clothing would help us save some money. Secondly poi in your boyfriend's wardrobe you can find some useful item hard to find among women's wear. What do I buy in men's department? Oversize shirts (great with skinnies and high waist pants), sweatshirts, hoodies and oversize knit sweaters. But also boyish blazers, bomber and denim jackets. If you want to steal something from his wardrobe my advice is: JUST TRY!
#3 Fashion Mistake: YOU THINK THAT MIXING DIFFERENT PATTERNS IS NOT COOL
Let's say that mixing well different patterns is very difficult. Plaid with stripes, floral with polka-dots, stars with cherries…. Don't be scared, you have to try something like that. A good mix of patterns will make you look very original and unique! Well, if you love fashion you absolutely need to try some bold match. Start with something easy: two different patterns in the same color or a neutral color with something brighter. ( e.g. black and white stripes with colorful plaid / black and white dots with a dark floral print).
#4 Fashion Mistake: YOU ALWAYS BUY THE SAME SIZE IN DIFFERENT STORES
Trousers too tight. Sleeves too short or too long. Squeezed curves. The problem is that we made the terrible mistake of buying always the same size. You have to face the fact that even if the size scale look the same, unfortunately every brand has a different standard. So a LARGE can be enormous for us in one store and to tight in some other. Even if you think to know your body ALWAYS TRY clothes before buying them! Don't even try to fit in a pair of tight pants just because you fitted in that size of another brand. I have a hack, I always take in the changing room two pieces of the same item in two different size so I can try both and tell the difference. Choose what looks better on you. And if you like buying clothes on-line, always choose an e-store with free returns (or at least if returns are not too expensive) and remember to check the size in centimeters, it's available on the website.
#5 Fashion Mistake: YOU THINK THAT BLACK AND BLUE ARE NOT OK TOGETHER
This is an abominable cliché. An outdated an boring fashion dogma. Some fashion designers today create their entire collections on this two colors. I personally, think that they're super elegant together. Try blue navy and black if you don't believe me! :))
If you want to learn more… 
My GUIDE on how to stay warm in style!
MY GUIDE TO SALES: 10 items you shouldn't miss during this season sales!


Condividi