The best make up removers: I tried out 6!
The best make up removers. I recently discovered something that used to seem like nonsense to me, even if I'd heard everyone saying it was absolutely essential. I'm talking about the cleansing routine for removing your make up before bed. My fundamental golden rule, that I hope is also yours, is: "Never ever go to bed with your make up on". Ok,  I admit when I was younger I used to do it sometimes: after a really late night I would occasionally fall into bed without taking off my make up. I don't remember any disastrous consequences on waking up the next morning to a pillowcase smeared in mascara. However if I did it now, the next day my skin would undoubtedly look like a 3D geographical map: aahh, spotty chin!! If you follow me on Snapchat you'll know all about my troubles with these wretched chin pimples!! Skin problems are caused by lots of things, of course, however my skin always flares up when I don't properly cleanse my skin, or when I've worn particularly heavy make up, for example when filming for TV or for photo shoots…
The best make up removers: I tried out 6 by lots of different brands, and here's what I thought!
–
So I said to myself: "Come on, Irene, you have to take better care of your skin". Starting with proper make up removal which, with hindsight, I know is really important. So, thanks to the amazing #SephoraMagicCleanser, I chose 6 different types of make up remover, from 6 different brands, and I tried them all out. I'll tell you what I thought, what each one is like (some of them are a bit absurd) and which ones are my two favourites for my skin!
Triple Action gentle make up remover gel by Sephora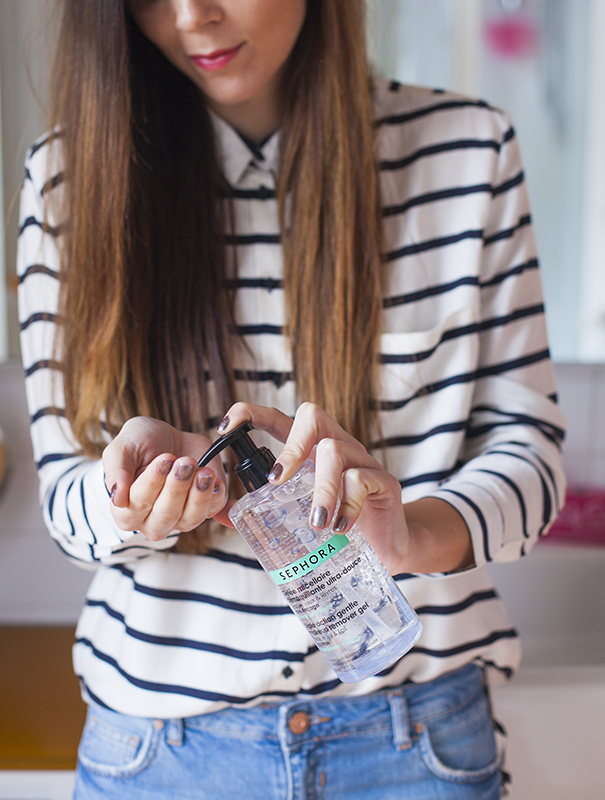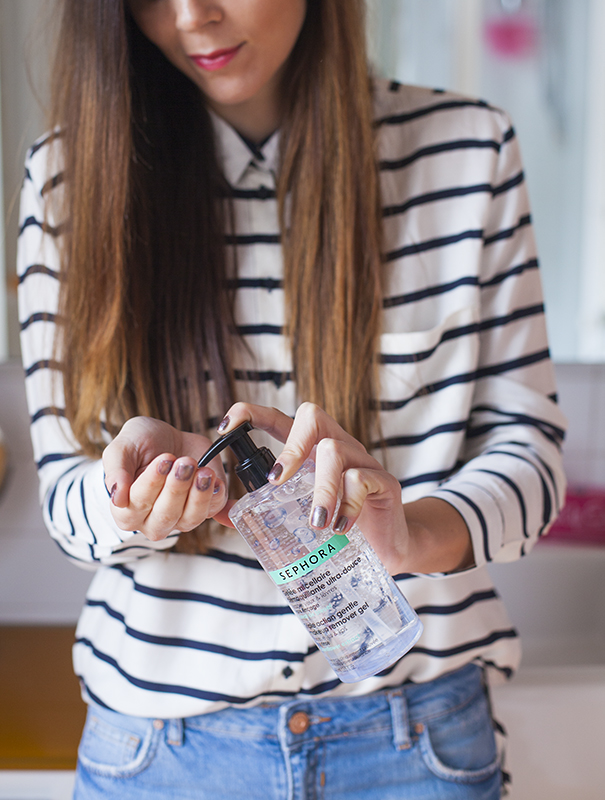 – Make up remover that is suitable for the whole face, including eyes and lips, that is applied with a cotton pad (there is no need to wash your face with water after)
– The bottle is very big, so it will last for a long time!
– This cleanser is perfect for sensitive skin, as it's very gentle and contains purifying bubbles to wipe away impurities and to help those with problem skin. It's also great for people who wear contact lenses, because the cleanser is very light and doesn't irritate your eyes.
 Spugna: The original MakeUp Eraser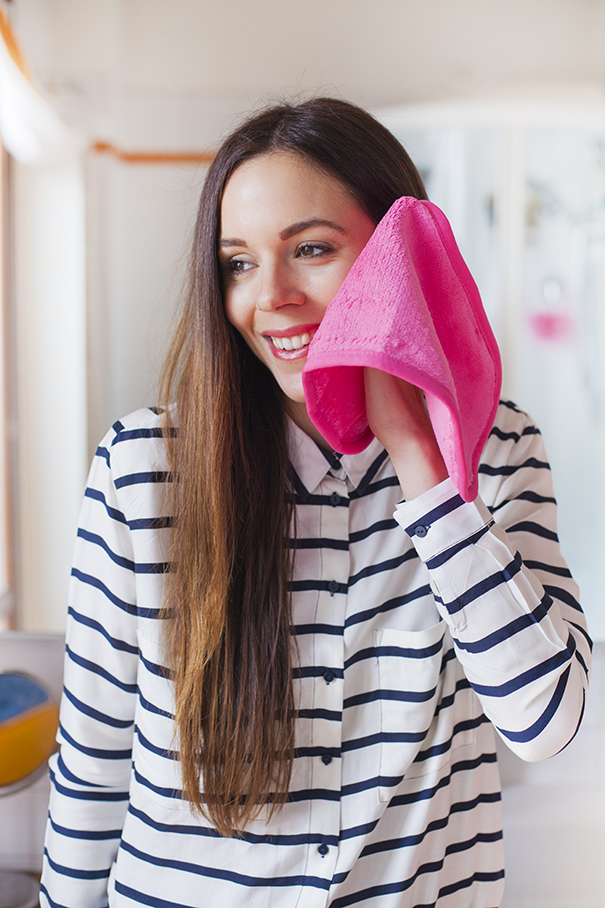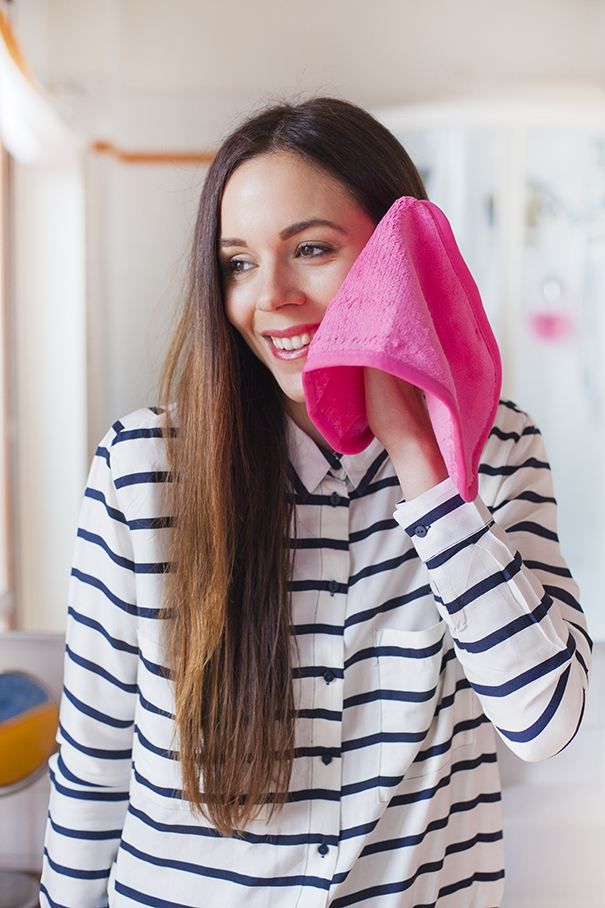 – I'd heard people talking about this for ages, but I'd never tried it. It's amazing: it's a cloth that removes your make up simply using water! Magic!
– How to use: dampen a section of the cloth with warm water, wipe it over your face using the side without the label, then do the same with the side with the label, which is the exfoliating side. Then rinse it with water and let it dry until the following evening, when you can start all over again! You can even throw it in the washing machine every now and then to keep it clean.
– NB: you should put it through the washing machine one before using it for the first time!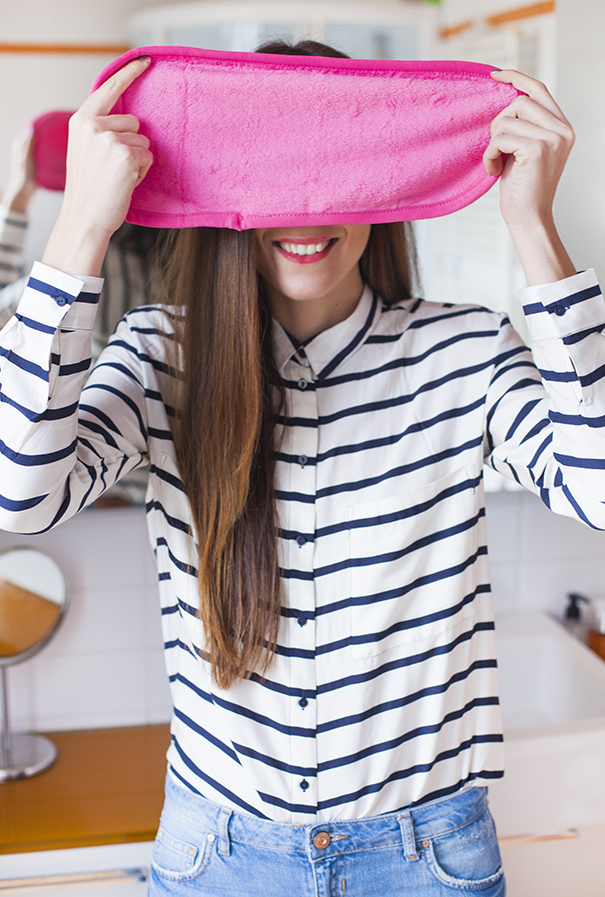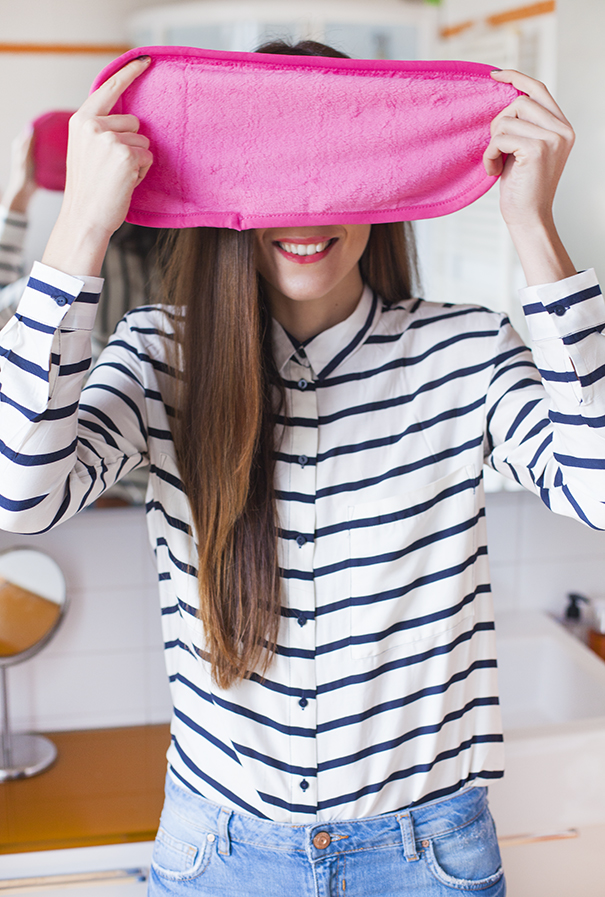 Clarisonic Mia 2 (EXCELLENT!)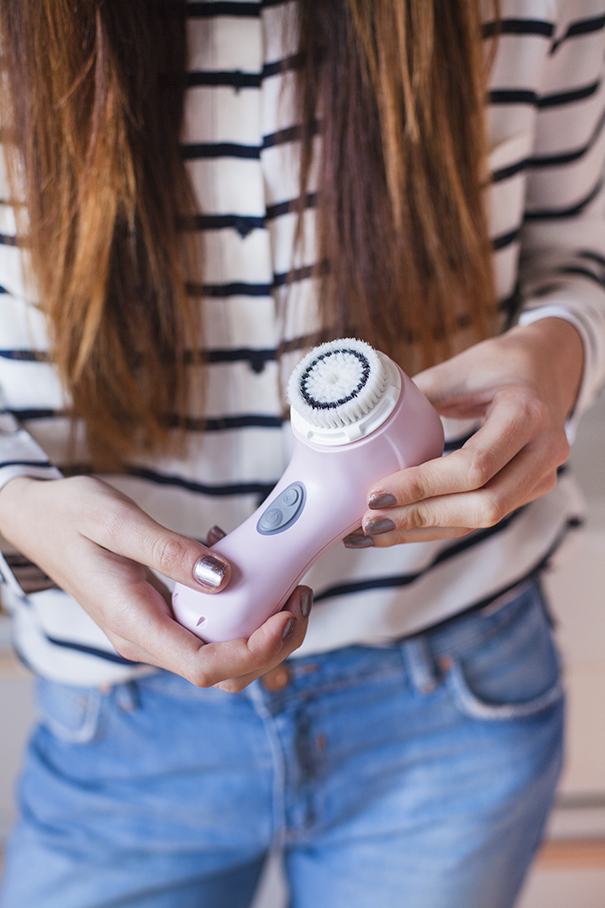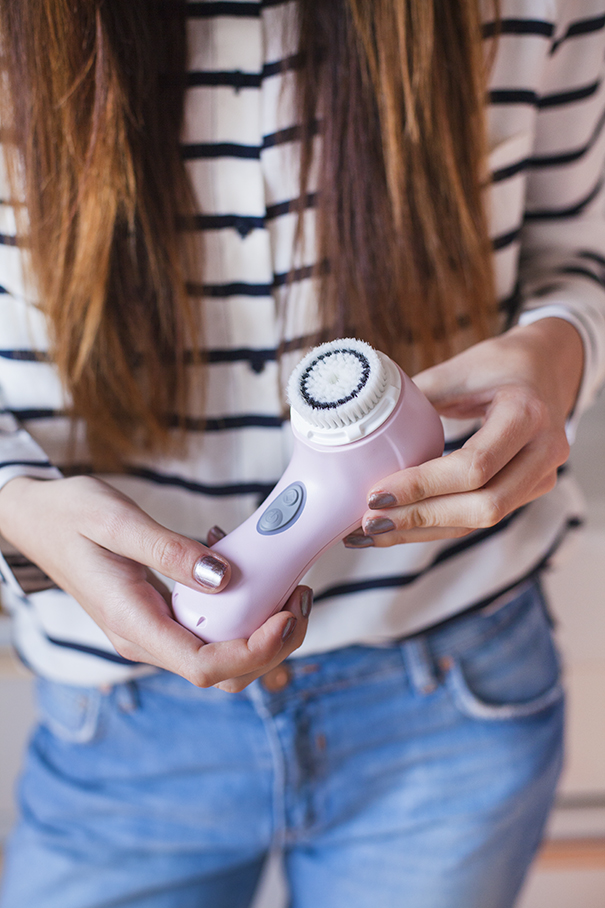 – An oscillating brush that cleans your skin six times more deeply than hand-washing (and that you can use with your usual cleanser instead of your hands, but obviously not on your eyes!!)
– It has an automatic timer built in that guides you through the entire cleansing process in 60 seconds. 10 seconds on each cheek, 20 seconds on the forehead, 20 seconds on the nose and chin. After 60 seconds it turns itself off automatically.
– It's my favourite product of the lot because it's so practical (and it's dinky and lightweight, so I can take it with me on all my travels) and I instantly noticed the benefits of its deep-cleaning effect. In my opinion this is an absolutely brilliant gadget that every woman should get into the habit of using during their pre-bed skin routine!
Cleansing gel by Peter Thomas Roth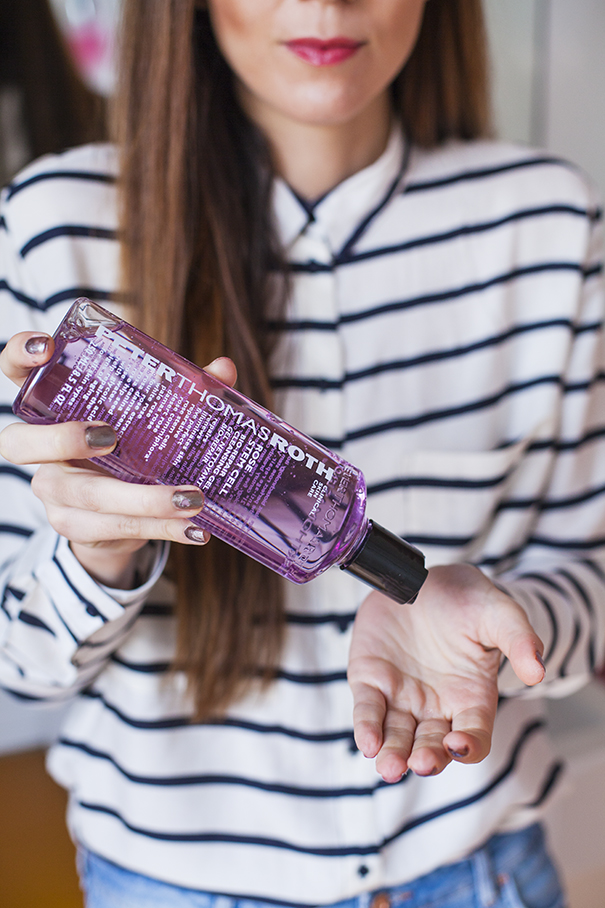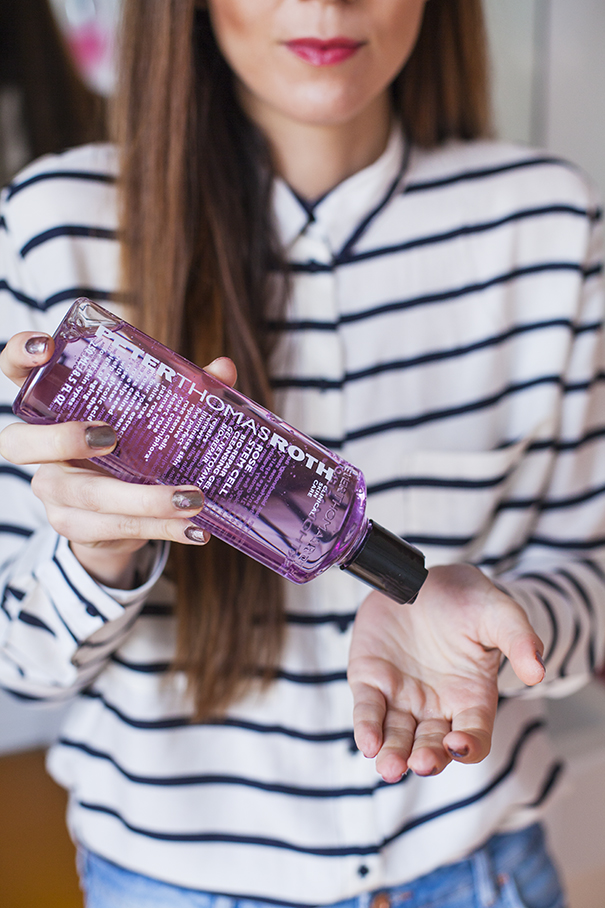 – Apply to damp skin, lather and rinse. Quick and practical!
– It's recommended for those who are looking for an anti-aging cleansing product: it contains stem cell extracts from 5 roses and glycolic acid that helps to repair age spots, to improve your skin's elasticity and plumpness and to hide signs of ageing. A product for the over-30s!!
Total Renew Oil by Biotherm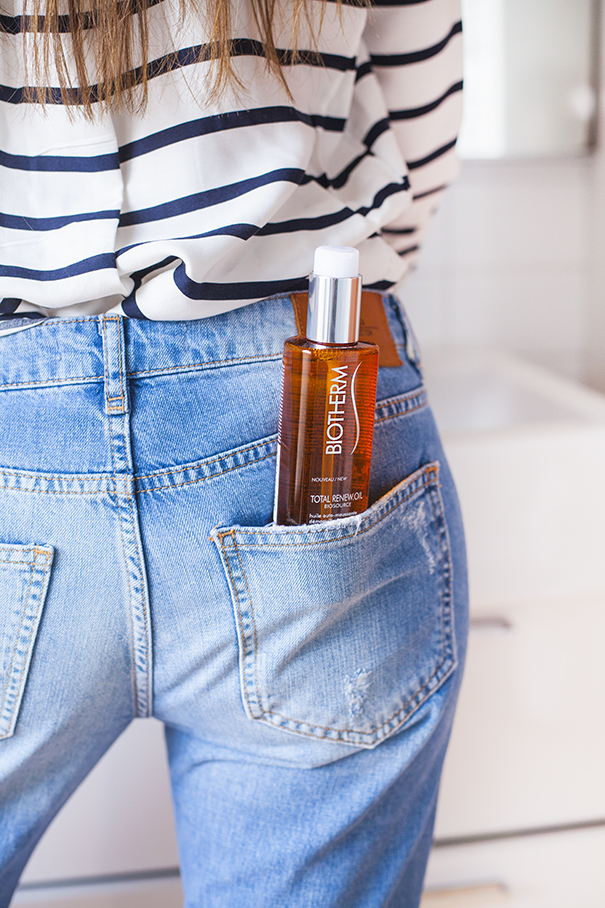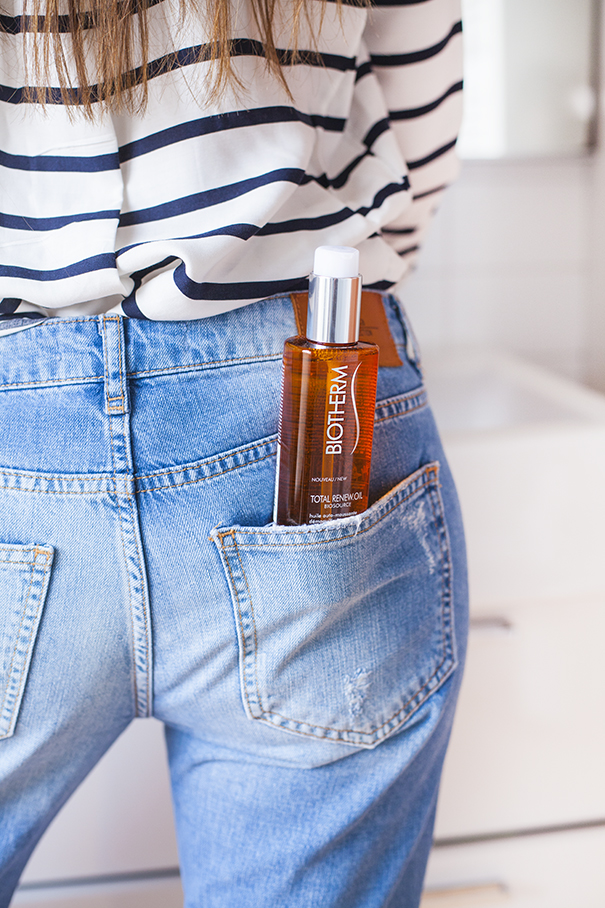 – A cleanser that combines essential oils and a foaming mousse, so it's a very nice texture on the skin.
– This product can be used all over your face, including eyes and lips.
– It removes all traces of make up and is super hydrating: perfect for all skin types and ages.
 Double duty exfoliator + mask by Sephora (GREAT!)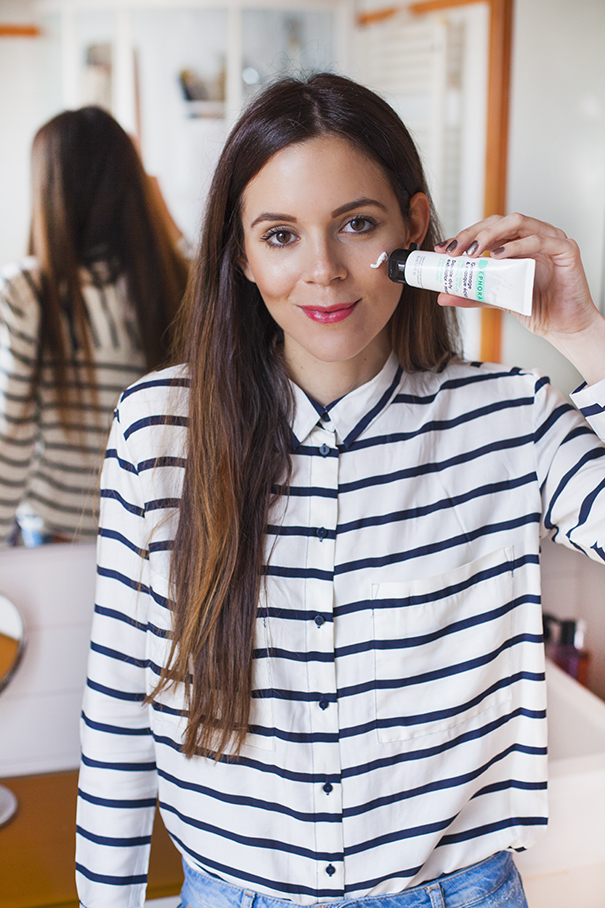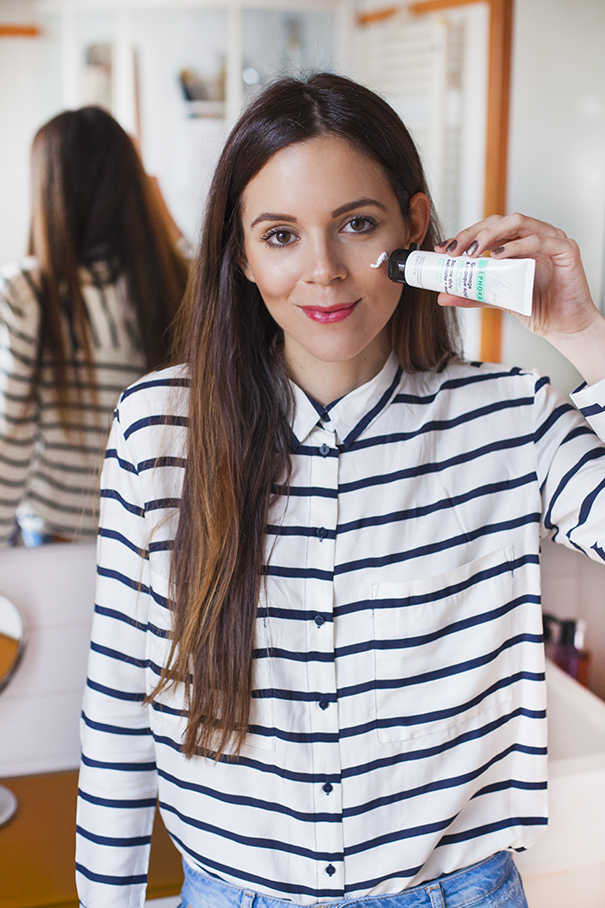 – To be used once or twice a week, after your usual skin cleansing routine.
– It's 2-in-1: an exfoliator and a face mask (apply lightly to damp skin and leave for 5 minutes before rinsing).
– Deep-cleaning effect
– Of all the products I tried this is my favourite because it's time-saving and space-saving (I can take it in my hand luggage when traveling and I have both an exfoliator and a face mask with me in one little tube!), and also because it deep cleans your skin, leaving your face extremely soft and ready for the next steps in your skin routine (in my case a massive dollop of face moisturiser and eye cream!).
——-
If you want to read more about beauty regimes…
EVERYTHING YOU NEED TO KNOW ABOUT PULSED LIGHT HAIR REMOVAL
–
4 LIPSTICKS THAT I'M OBSESSED WITH
HAIRSTYLE TRENDS THAT WE SPOTTED AT FASHION WEEK


Condividi