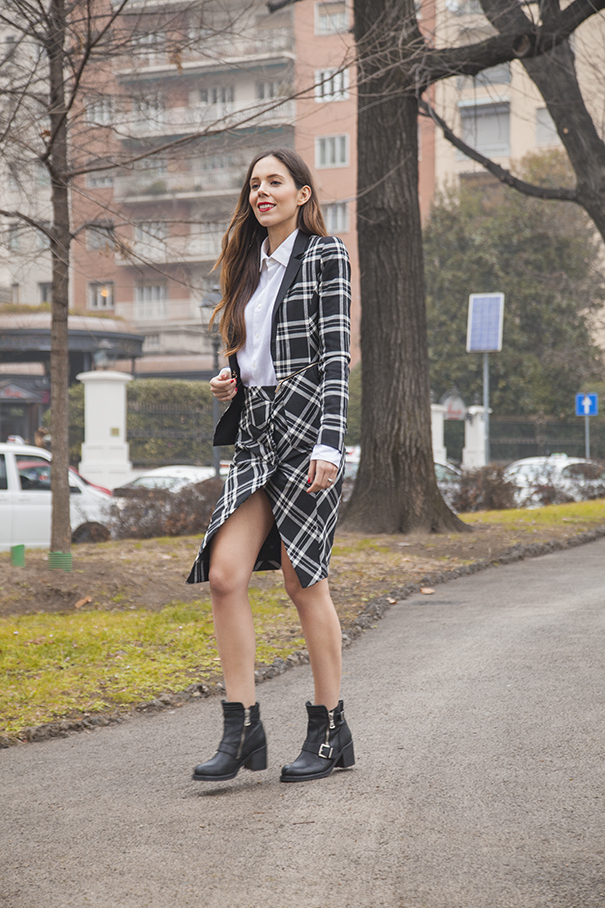 Springtime skirt suit: all in tartan!
The skirtsuit.  Yes, I'm a fan of bare legs! So for me, getting to throw away my tights in spring isn't that exciting because, and maybe I'm mad, I do this also in winter! All of you that follow me will know this already: there are certain looks that for me require bare legs. Of course, it's not the sort of look that can be worn all day in the depths of winter but, if the occasion allows it, why not give it a go?
Springtime skirt suit: all in tartan!
Of course, when spring arrives, getting your legs out in keeping with the "free the thighs" motto really is a pleasure. (Yes, even if we're still a bit pale!). So today I've gone for a skirt suit, paired with a wintery biker book, a white shirt and voilà, a springtime look!
What do you think of this look? Can't wait to hear your ideas :) Big hug to you all, and looking forward to your comments :*
–
I'M WEARING..
SHOES: SARENZA.IT
COMPLETE SUIT: MANGANO (COLLECTION FW 2015 2016)
SHIRT: H&M MEN
MAKE UP: DIOR SPRING
My latest looks on the blog..
CASUAL LOOK: AN EMBELLISHED PARKA AND TIE DYE 
And I'm explaining what is this (new, old) tie dye!
–
LIGHT CASHMERE FOR SPRING, the new trend!
3 looks to try for work, evening and casual!
–
Because polka dots rule this season!


Condividi