Dehydrated skin? Here's why, the remedies to fix it FAST and the Galénic products that I tried!
Dehydrated skin. Is your face in need of more hydration? Do you have tight, dry skin? This is a very common problem, especially during winter, for me included, especially since my skin also breaks out in spots….
WHY IS MY SKIN DEHYDRATED?
Skin dehydration has been well documented recently: our body is made up of 60% water, which decreases with age, to around 50%. Children, on the other hand, are about 80% water… and that explains why they have such soft skin! We are constantly losing water from our body: not just over time but also due to variations in temperature and air conditioning. So during summer our skin can get very dehydrated and ruin our beautiful looks! Argh!!
WHAT SHOULD BE OUR AIM?
We should be aware that we lose water with age, and so our skin's beauty is physiological. But you can slow down the process by keeping your levels of hydration up. Also you should protect your skin from all external factors that could accelerate the loss of water (above all the famous ups and downs of temperature and air conditioning…). Basically, your skin should be constantly hydrated (never forget to take care of your facial skin!).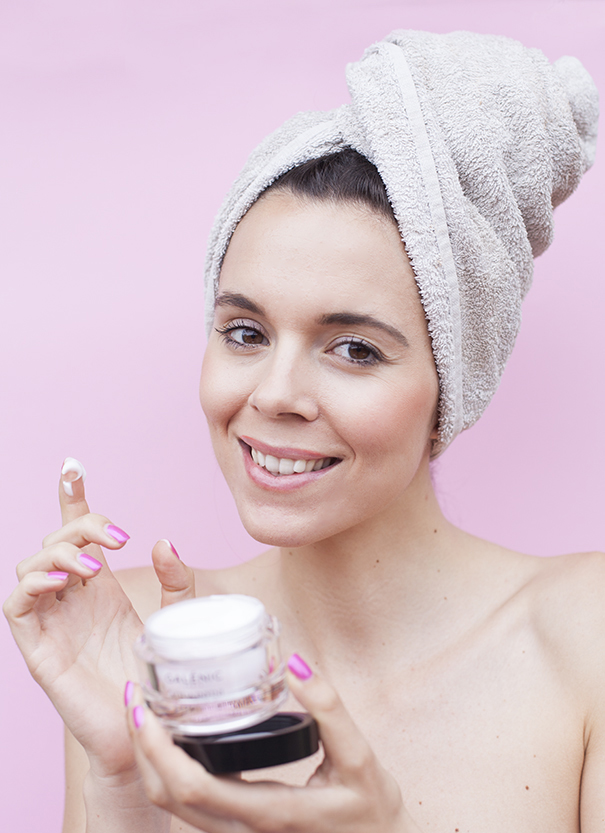 HABITS TO ADOPT IMMEDIATELY:
Here are the routines and habits to adopt right away to protect your skin and reduce dehydration:
Protect your skin from UV rays: they damage and dry out the skin.
Protect your skin from very cold or very hot temperatures where possible (and from big changes in temperature!): this only accelerates the dehydration of the skin, which becomes more visible with age.
Moisturise with special products for dry skin.
Use soft towels and don't scrub the skin too hard: you risk making it worse!
Avoid water that is too hot or too cold for the face: warm water is ideal!
Eat well: often dry skin is caused by a bad diet…
Don't smoke
Moisturise at home every day!
Amongst the innovative treatments to try at home which are designed for dry skin, one of the latest products on the market is the Galénic, Aqua Infini. It's a range of products that is revolutionary and better than many other competitor products, thanks to the masters at Galénic. The ingredient which makes the Aqua Infini line by Galénic so extraordinary is the Fleur de Rocher: a plant which grows in the heart of Mexico, in a desert with extreme temperatures (-30 / + 40 degrees), with an important temperature range which manages to survive because of its internal mechanism of "resurrection" which allows it to be reborn and to grow again, even during long periods of drought. This plant is blessed with some kind of magic potion, allowing it to come back to life, regain its colour and be more beautiful each time!! Perhaps one day this will happen to us, no? So this power to retain water can be replicated on our skin. The clever people at Galénic have succeeded in creating a line of products, the Acqua Infini line, which restores water and hydration for our skin. There are 4 products in the line (3 of which I have tried out for you). So here are my thoughts and the characteristics of each product:
AQUA INFINI – TREATMENT LOTION The basic product that I would say is essential to buy for its versatility. Whatever the hydration treatment that you're using, this product maximises the effects. This product is our guarantee that the product successfully penetrates and softens the skin in the perfect way. When you apply it the skin is immediately hydrated and softer and will become more receptive to other hydration treatments (the Galénic studies have proven a 20% increase in skin's hydration by using this product before each moisturiser). TIP: this is easier to apply with your fingers… cotton pads will absorb all the goodness from the cream! (€24 for 200ml).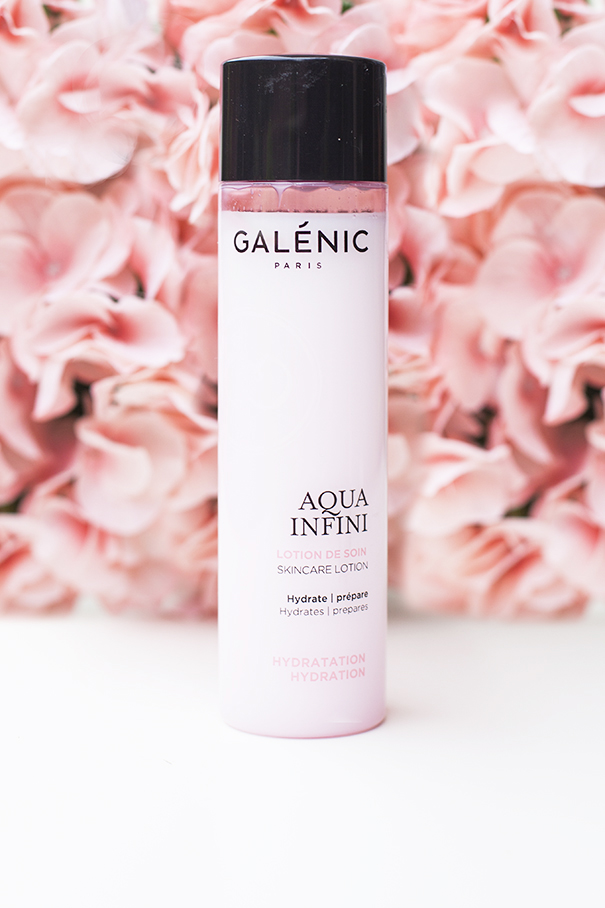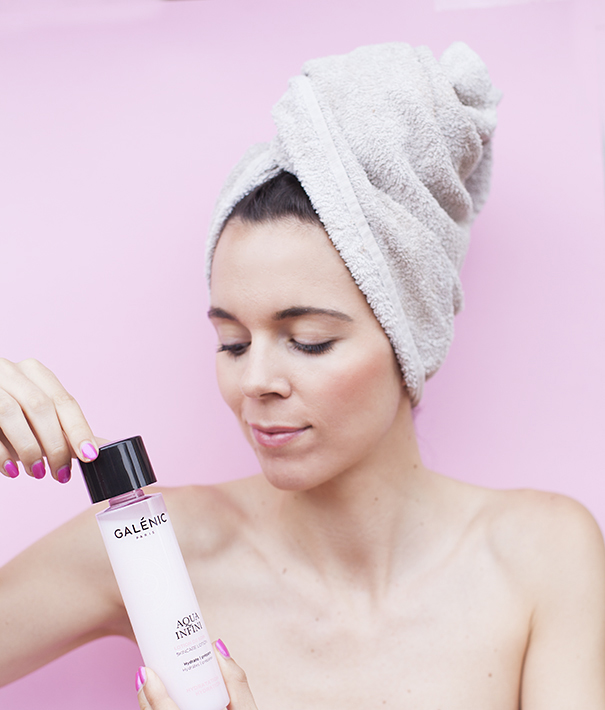 AQUA INFINI – ENRICHING AND HYDRATING SERUM  This is the most powerful product in the range because of its composition of Fleur de Rocher which has innovative ingredients that increase the hydration of the skin for as long as possible This is what the little beads are that you can see inside the bottle. As soon as you apply the serum, your skin appears refreshed, softer and more hydrated… and smells amazing! Use this product after the treatment lotion and before the daily moisturiser (€45).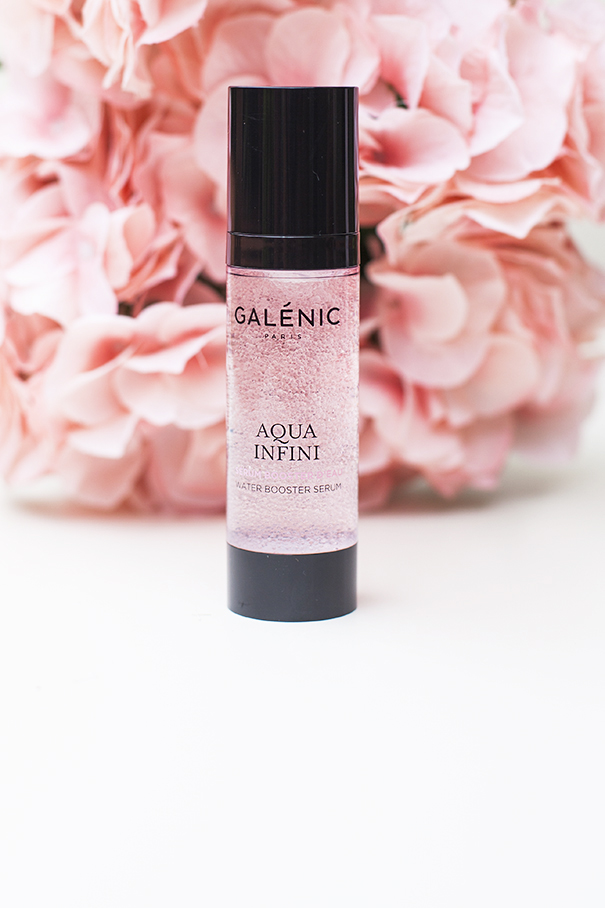 AQUA INFINI HYDRATING CREAM. The true hydrating moisturiser that completes the range is designed to bring comfort to dry skin with a fresh and moisturising sensation. The Galénic studies have demonstrated a 45% increase in hydration of the skin 1 hour after applying the cream (€40).
AQUA INFINI HYDRATING EMULSION: This cream is for combination skin (like mine) and contains an anti-shine powder to minimise shine while still hydrating and refreshing the skin (€40).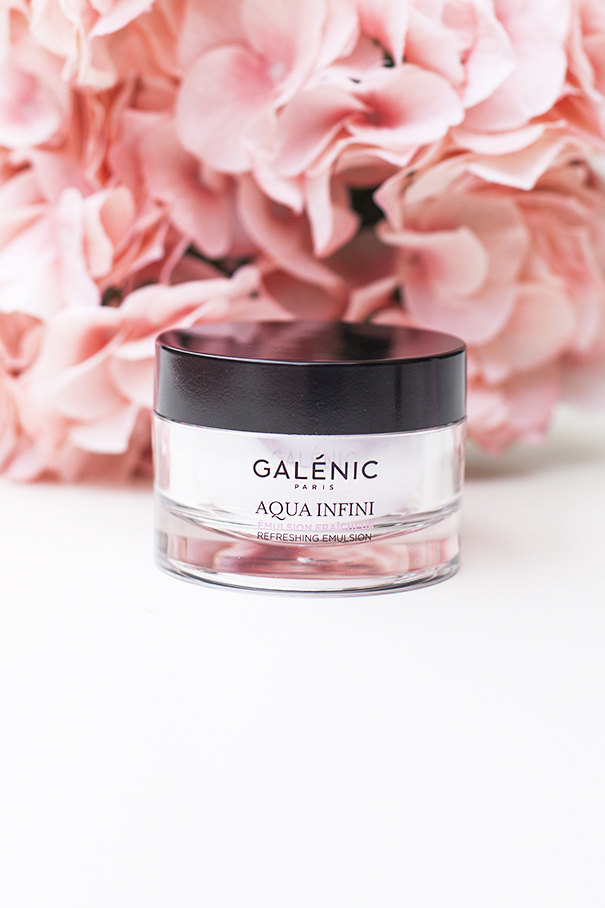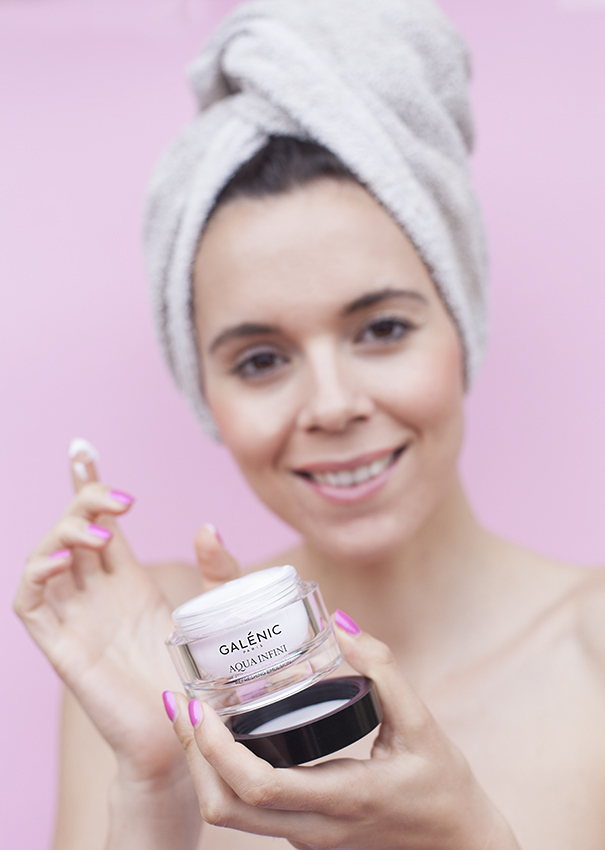 What are your tips for dry skin? Share them with us all in the comments below or on my Facebook page!
–
If you want to read more…
–
—
Here are my most recent posts about foundation!
—
NEWS! FOLLOW ME LIVE ON SNAPCHAT, EVERY DAY :)
All my adventures, training, shopping, backstage action and events… in mini videos that only last 24 hours!
Search for IRENECOLZI or click here www.snapchat.com/add/irenecolzi
P.S. I'm still on Instagram @ireneCCloset (for beautiful live photos, and where I will always respond to your comments and questions!) and on Facebook Irene's Closet , where we can chat all day long about new trends ;)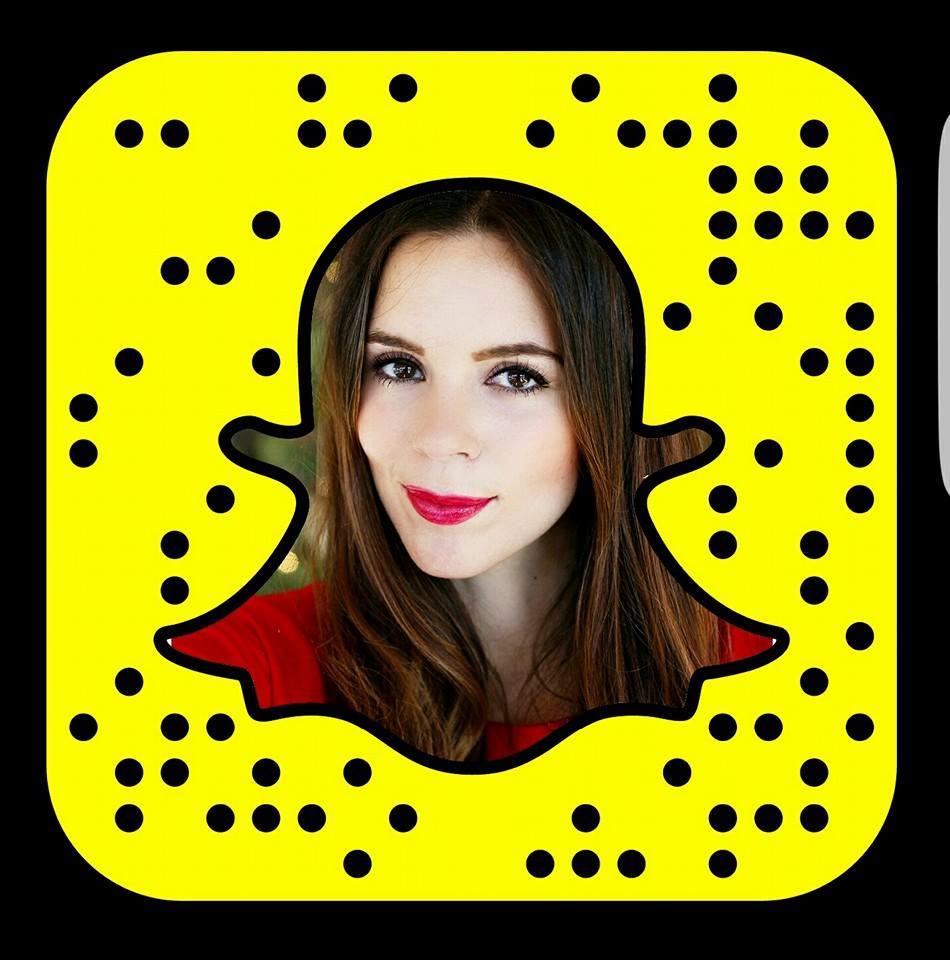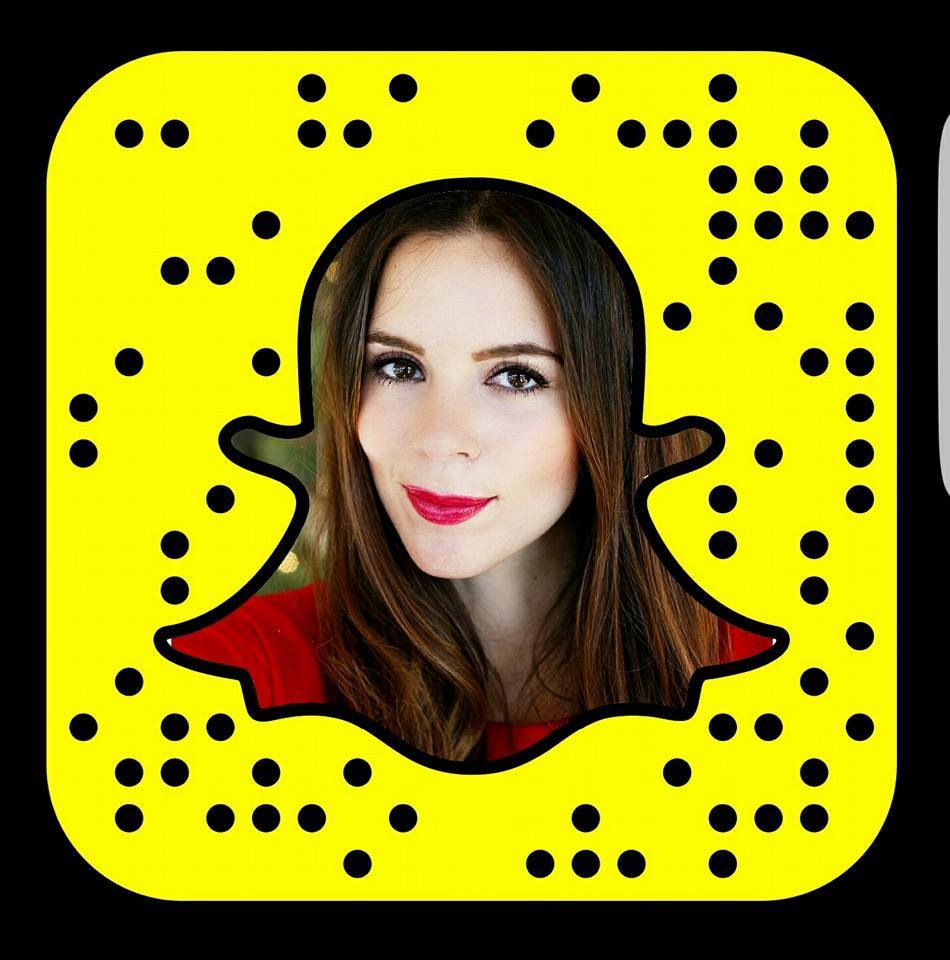 Condividi