Alti Tauri, il parco nazionale, Lienz e più di 100 km di trekking (Le mie vacanze parte 2)
Seconda parte del mio diario di viaggio tra le montagne austriache (ECCO LA PRIMA PARTE, SE VE LA SIETE PERSA IERI!).
Tra una giornata di trekking e l'altra abbiamo preso una pausa, direzione Lienz. Pittoresca cittadina tirolese dove assaggiare il curry wurst o la tipica cotoletta fritta e per finire non perdetevi l`Alpin Coster, l`ottovolante che sfrutta il pendio montuoso per quasi 4 km di adrenalina. Abbiamo ripreso il nostro trekking il giorno successivo cosi. Abbiamo preso la funivia e seggiovia da St.Jacob con arrivo a Mooseralm mt 2345. Una camminata non troppo ripida ci ha portato a Ochsenlenke 2744. Raggiunta la finestra siamo scesi lungo la valle prima fino a Bruggeralm 1818 ed infino fino a Sab Jacob lungo strada forestale. Circa 25 km e 6 ore di cammino (CONTINUA…)
P.S. Le foto sono state scelte e caricate tramite Irista, una piattaforma creata da Canon dove puoi caricare, gestire e condividere le tue foto. NEL POST DI IERI TUTTE LE INFO!
♥
The second part of my travel diary among the Austrian mountains (here's the first one!) (TO BE CONTINUED AFTER THE GAP)
(IF YOU WANT TO CONTINUE READING IN ENGLISH, CLICK HERE)
Altro giorno, altra avventura. Abbiamo preso a noleggio alla stazione dei treni di Lienz le bike. Abbiamo poi percorso i quasi 50 km in salita fino a San Candido dove poi abbiamo lasciato la bici (la stessa compagnia ha piu punti di ritiro e ritorno, noi abbiamo scelto Papin). Ritorno in treno. Consigliata la tappa allo stabilimento della Loacker che si trova lungo la strada.  Consigliato il percorso in discesa (san.candido · Lienz) per chi non e` troppo allenato.
Tempo brutto? In 2 ore e 30 di auto siamo arrivati a Innsbruck che, insieme a Salisburgo e` la mia citta` austriaca preferita. Una zuppa di Gulash, un Frankofurter e un giro di shopping tra le colorate casette della citta`.
Ultimo giorno ed una bellissima escursione. Partenza da Tauernhaus 1500 mt (arrivo in macchina o pullman), il sentiero sale prima lievemente in salita fino a Innergschlob poi rapidamente fino al tavolato di Salzboden con rocce levigate dal ghiaccio. Meravigliosa la vista sul ghiacciaio Schlatenkees. Ritorno verso valle sempre con percorso circolare. 1200 mt di dislivello e 7-8 ore di cammino.
A domani con la terza e ultima parte del mio racconto delle vacanze in montagna ;)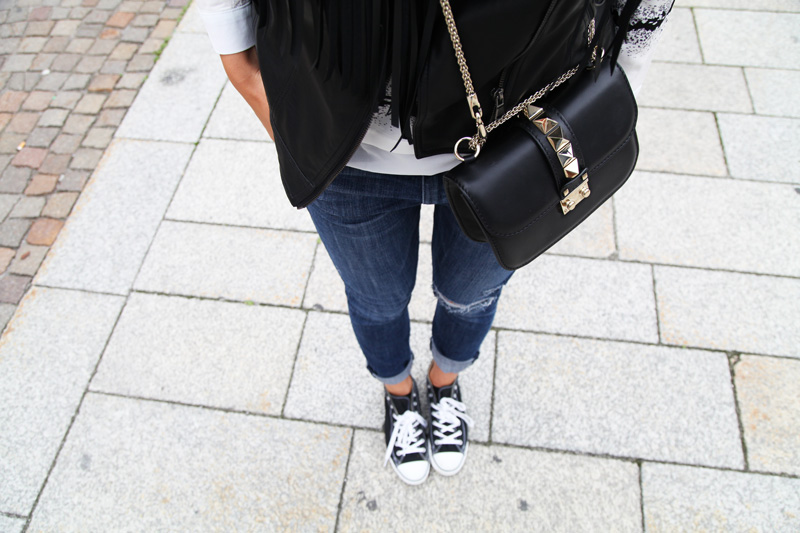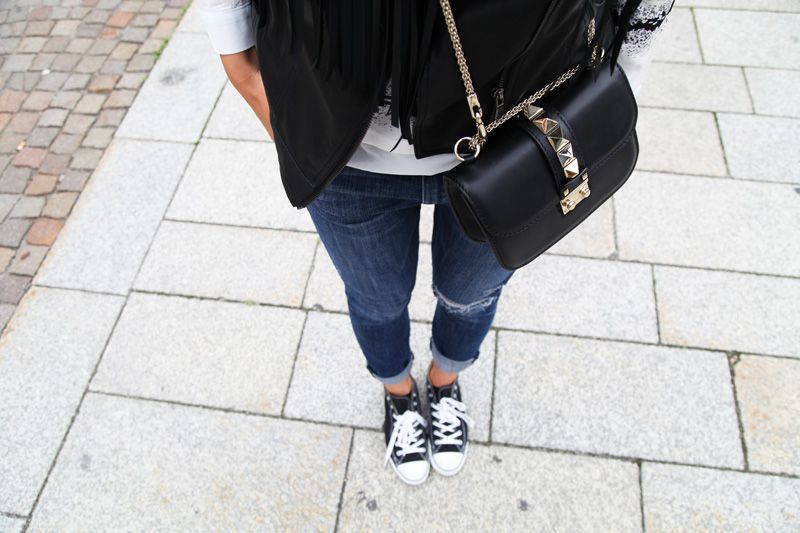 SHIRT: SHEINSIDE.COM
FRINGED SWEATER: SHEINSIDE.COM
Photo made with: CANON 5D e Nilox F60 evo camera e Video
♥
ECCO COSA LEGGERE SE LE MIE VACANZE TI STANNO INCURIOSENDO..
LA PRIMA PARTE DEL MIO DIARIO DI VIAGGIO
Montagna, istruzioni per l'uso! Ecco perchè ho scelto la montagna per la mia estate
Tutto dal mio trekking in Austria dello scorso anno (poi puoi cliccare sui post che ti piacciono di piu!)
Pet Therapy, quando la natura ti regala la pace
Ecco alcuni paesaggi meravigliosi che ho visto l'anno scorso a Solden (Austria)
Condividi