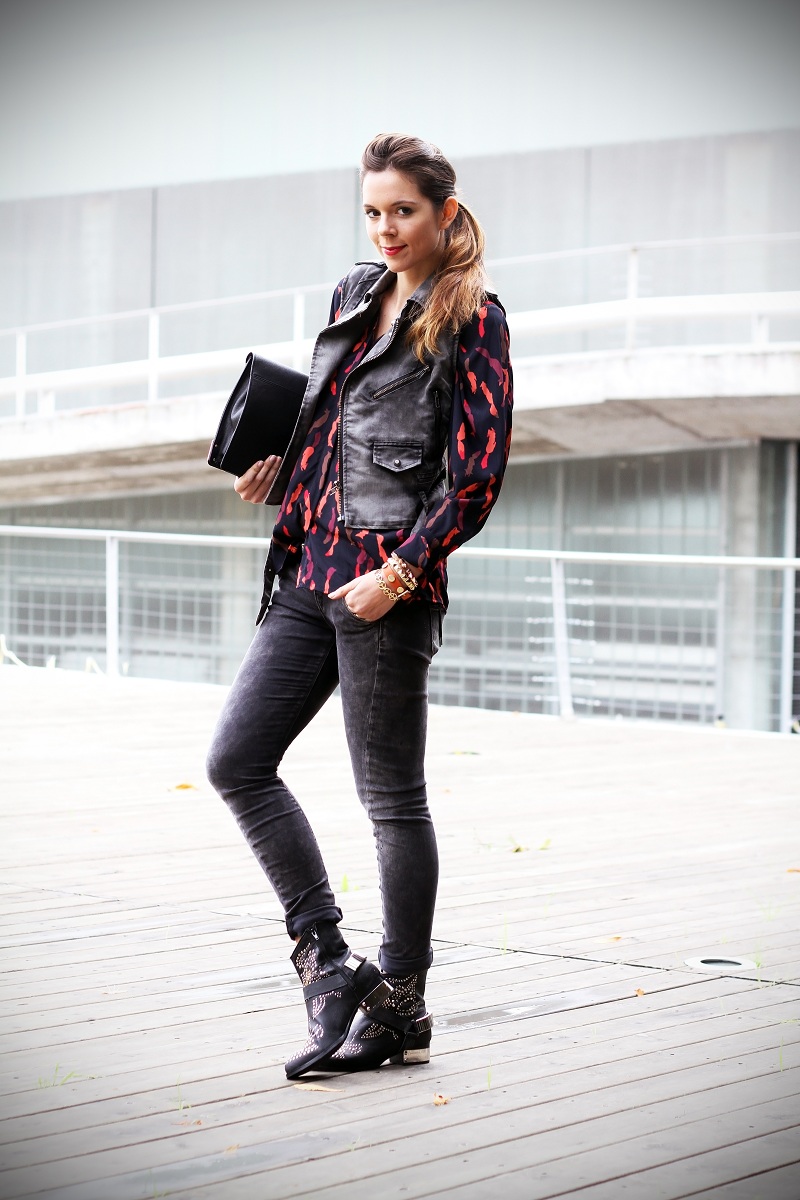 |Il mio outfit per la giornata Wella dedicata alle tendenze capello a Madrid!|
Buon sabato mie carissime fanciulle! Vi scrivo dalla nostra camera di hotel in Madrid,
ancora in accappatoio e ciabattine
(Se c'è una cosa che adoro dei soggiorni in hotel, oltre alla colazione ovviamente, è proprio quella di avvolgermi nei meravigliosamente morbidi accappatoi non appena metto piede in camera :P). Ieri è stata una
giornata intensissima ma davvero super:
presso il colossale
Madrid Arena
, insieme a più di 100 rappresentanti della stampa di tutto il mondo, ho assistito alla presentazione dei
nuovi trend capello
e dei
nuovi prodotto 2013
Wella
(Vi sto preparando un post ad hoc che vedrete nel pomeriggio, spero vi piacerà!). Prima di parlarvi di tutto ciò, ecco
l'outfit che ho indossato per la giornata:
le scarpe ve le ho già fatte vedere
nel post di ieri pomeriggio
mentre la camicia, la riconoscete? L'avevo indossata nel
video di Silvian Heach
(Lo potete vedere
QUI
), riuscite a trovarla? Fatemi sapere che cosa ne pensate di questo outfit, ci sentiamo nel pomeriggio: sarò curiosissima di scoprire i vostri pensieri sui nuovi pazzi capelli per il 2013! 
Ps. Segui le mie avventure da Madrid sulla mia

pagina 
Facebook Irene's Closet
 

:D 
Ps. Ci vediamo sabato 3 novembre a 
TRIESTE
, presso il negozio Godina, dove sarò ospite per Silvian Heach :) Sarò li tutto il giorno :) Vi aspetto e spero tanto di vedervi e conoscervi dal vivo!!
|PHOTOS| 
by Giovanni Gambassi
|My outfit for the Wella hair trend 2013 day in Madrid!
|
Happy day girls!! I'm writing you from my hotel room in Madrid still relaxing on my bed. Yesterday has been a super intense and super day: at the super big Madrid Arena, together with more then 100 beauty journalists from all over the world I had the chance to discover the new hair trends and new Wella products for 2013 (I'm creatng for you a post for this afternoon, stay tuned!). Before to talk to you about everything, here the outfit I was wearing for the day: I have already shown you the shoes while the blouse has been shoot during the Silvian Heach video (You can see it HERE). You can spot it? Let me know if you like this look and let's talk this afternoon!
Condividi