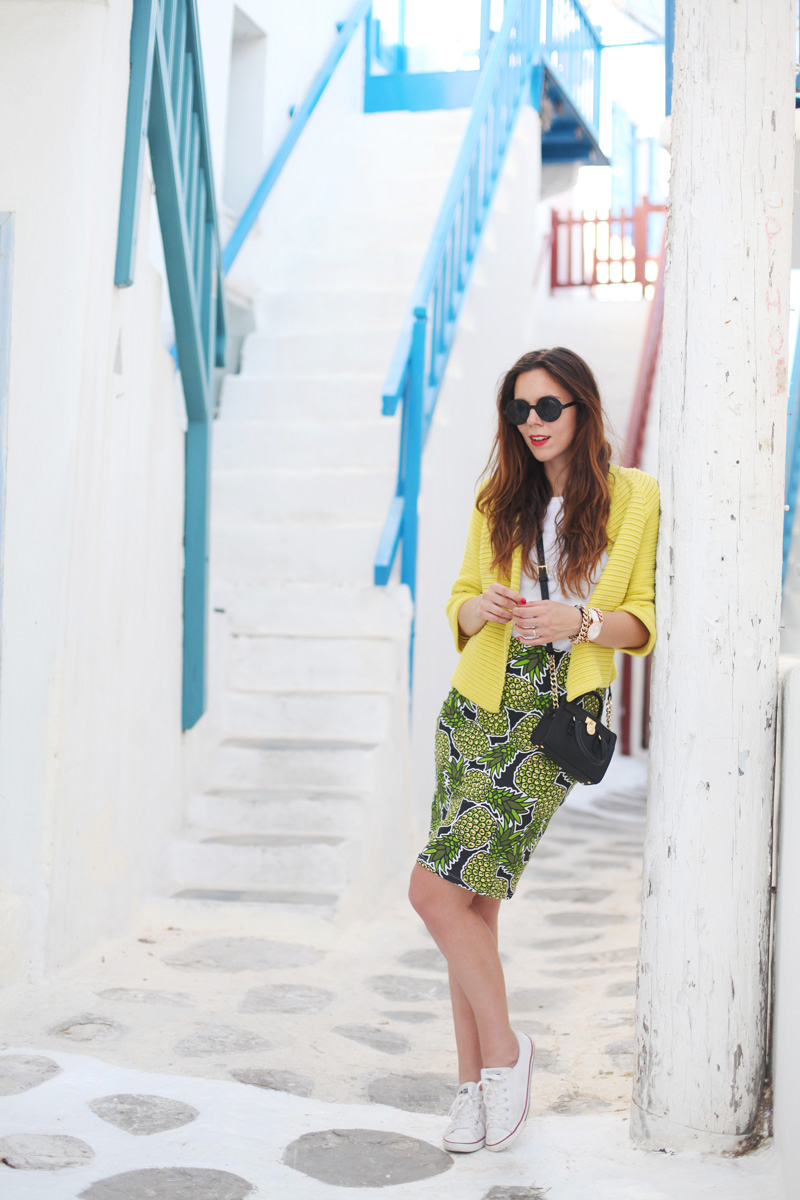 Grecia Mykonos: bello perdersi in un mare di casine bianche e blu
Grecia Mykonos. Quando con l'aereo inizi a intravedere Mykonos, per prima cosa rimani colpita dal blu del mare. Poi, iniziando a sorvolare l'isola ti accorgi di quanto sia brulla e selvaggia: le casette bianchissime con qualche tocco di colore qui e là spiccano subito all'occhio in un mare di ocra e marrone. Vi consiglio di girare in quad a Mykonos (tranquille, troverete un rent ad ogni angolo del centro!): le stradine arroccate sono perfette, il divertimento è assicurato. Poi ti puoi fermare subito senza impicci ad immortalare ogni angolo dell'isola: l'asinello dietro il muretto di pietra a secco, il pellicano dispettoso, i mulini a vento, il mare increspato dal perenne vento che batte l'isola (E che rende più sopportabile il clima torrido!).
Grecia Mykonos: oltre i locali c'è di più
Il centro di Mykonos è una chicca: viuzze e ancora viuzze tutte bianche con questi colori che virano dal blu al rosso. Vi consiglio di perdervi, letteralmente, fuori dalle strade più turistiche: troverete i gatti di Mykonos, i millemila Bougainvillea, le famose scale ripidissime. Queste sono alcune delle foto che abbiamo scattato nel centro di Mykonos. Per vedere tutto quello vi ho raccontato (e anche un pochino di più) potete curiosare sul mio Instagram (@ireneccloset), oppure leggere il mio post di ieri dal bordo della piscina della Villa a Mykonos Il mio look? Coloratissimo ma con le scarpe comode (Tra salite e discese non dimenticatele a casa!). Grazie ancora a Pinktrotters per la favolosa esperienza tutta per ragazze (QUI per vedere i dettagli di questo viaggio) Se volete replicare il mio viaggio a Luglio con le vostre amiche, lo potete fare QUI e a voi tutte le foto, un abbraccio forte a tutte! Nei prossimi giorni altre foto dalla Grecia Mykonos!
E un po' di foto Pinktrotters :D
Thanks to Pinktrotters (Scopri QUI come vivere la mia stessa vacanza a Mykonos a luglio!) and to the sponsors: Sucrette, vitstnella, velvet soft Scholl, Essie, Manebì, Ippocampo
♥
SHOES: CONVERSE | Le hai viste in Australia l'ultima volta
SUNGLASSES: EMPORIO ARMANI | Li hai visti QUI, in versione.. costume da bagno
SKIRT: H&M
BAG: MICHAEL KORS MINI BAG
♥
HAI 2 MINUTI PER LEGGERE DI PIU'? :)
Mykonos: il viaggio con sole ragazze by Pinktrotters. Ecco di che cosa si tratta!
Colazione in piscina a Mykonos!
Stesse converse.. ma in Australia!
Esattamente un anno fa… tutte le foto da Taormina, Sicilia
LA MAPPA DI TUTTI I MIEI VIAGGI
Nella sezione travel del mio blog trovi tutti i viaggi che ho fatto..
Condividi