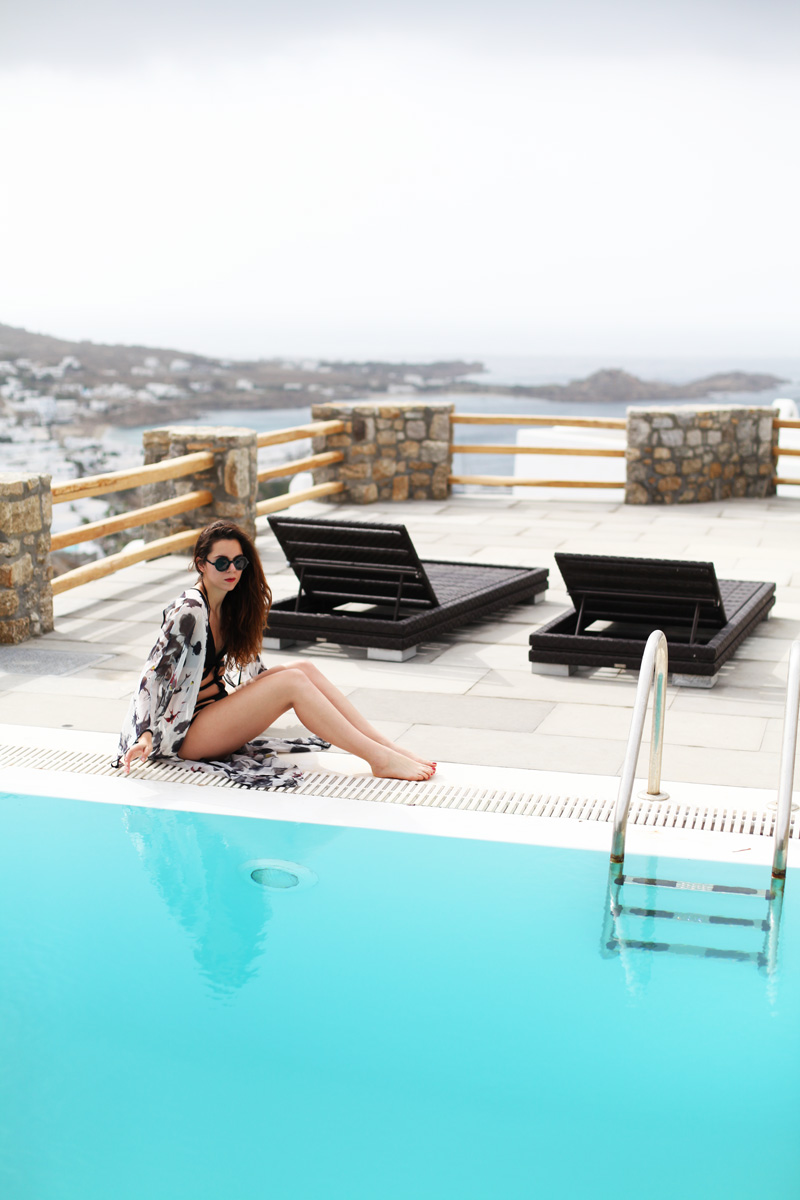 Villa Mykonos: breakfast at the pool!
Villa Mykonos. Ci sono delle cose che rimpiangi un sacco appena torni a casa dal mare o semplicemente da un weekend o una vacanza.A me quello che mi manca in questo preciso istante, qui dal mio pc di Firenze, è il momento della colazione nella Villa Mykonos. Quando viaggiamo per queste splendide collaborazioni ovviamente ci divertiamo un sacco ma come potete immaginare ci deve essere anche la componente lavoro-a-diritto-al-computer (Ovvero la Ire in versione nerd): di solito questo vuol dire svegliarsi molto presto al mattino per terminare il lavoro al pc prima dell'inizio delle attività in schedule durante il viaggio. Ma ci sono alcune volte in cui queste colazioni di lavoro diventano mooooooolto più piacevoli del solito!
Villa Mykonos ed un posto speciale per la mia colazione "nerd"
Questo rituale mattutino qui a Mykonos era davvero speciale: avendo una villa tutta per noi "Pinktrotters" (Vi ho raccontato tutto su cosa ho fatto a Mykonos QUI, mentre QUI puoi invece vivere lo stesso viaggio che ho vissuto io a Luglio) spesso mi trovavo al pc a guardare l'alba in un posto speciale, questo, quello che vedete nelle foto, la piscina della Villa Mykonos. Costume da bagno e pareo, il cielo che si accende, il pc sulle ginocchia, il thè tra le mani ed i cereali poggiati sul muretto di pietra. Che meraviglia! Ah, la colazione di questo lunedì mattina nella mia Firenze non ha avuto nulla a che fare con questa.. così vi lascio con queste foto scattate la dove facevo colazione ogni mattina, prima di farvi vedere domani di più di Mykonos (Che viuzze!! Non perdetevi le foto di domani!!). Vi abbraccio e grazie di seguirmi sempre!
P.S. La cagnolina che vedete in foto è Cucla, la piccola dei custodi della villa: è diventata subito mia amica e siamo diventate inseparabili.. ecco perchè ogni tanto compare in foto :D
Thanks to Pinktrotters (Scopri QUI come vivere la mia stessa vacanza a Mykonos a luglio!)
♥
VEST: VINTAGE
SWIMWEAR: you can find it at THEN AND NOW SHOP
SUNGLASSES: EMPORIO ARMANI
LIPSTICK: DIOR SS 2014
♥
HAI 2 MINUTI PER LEGGERE DI PIU'? :)
Mykonos: il viaggio con sole ragazze by Pinktrotters. Ecco di che cosa si tratta!
Esattamente un anno fa… tutte le foto da Taormina, Sicilia
LA MAPPA DI TUTTI I MIEI VIAGGI
Nella sezione travel del mio blog trovi tutti i viaggi che ho fatto..
Condividi