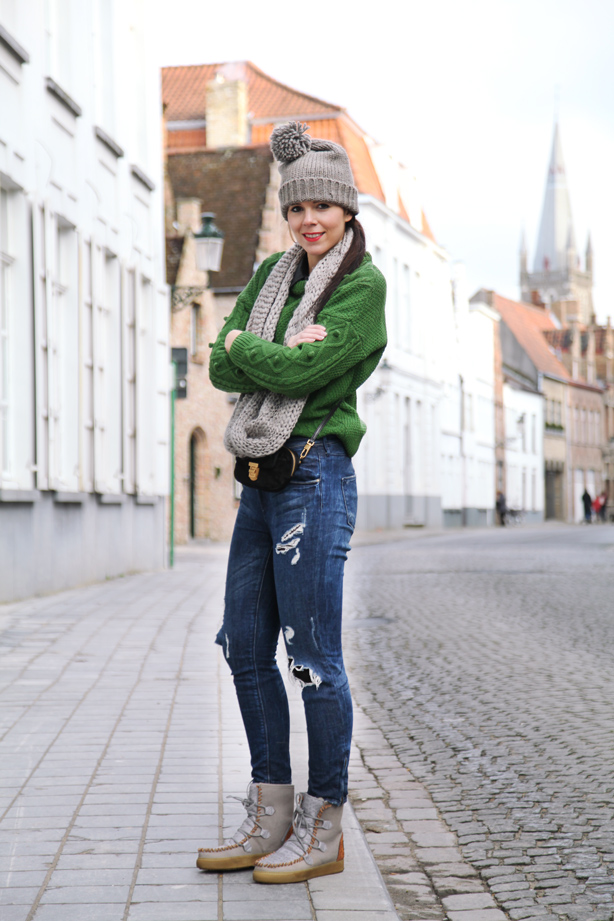 Bruges e Gand
Bruges e Gand. Dopo avervi raccontato della nostra prima tappa a Lione del nostro viaggio in Europa centrale di queste vacanze natalizie, oggi invece vorrei mostrarvi le fotografie da Bruges e Gant, seconda e terza tappa del nostro tour, che dopo la Francia ha toccato il Belgio. Che Bruges e Gant fossero delle vere e proprie bomboniere, situate a circa un'ora di distanza da Bruxelles, ce l'avevano detto in tanti, ma ritrovarsi immersi in un'altra epoca, ecco, a quello non ero proprio preparata.  La sensazione è quella di ritrovarsi accidentalmente nel Medioevo. Le case in mattoni, i vecchi ponti, i canali, i campanili. Tutto sembra fermo da secoli. E poi, gli scorci, ah ragazzi Bruges e Gand sono dei piccoli musei a cielo aperto! Bruges è una cittadina molto turistica ben più conosciuta della sorella maggiore Gand che però, forse proprio per questo motivo, è riuscita a darmi molto, molto di più. Ma partiamo dall'inizio.
Bruges e Gand: un salto inaspettato nel Medioevo
Bruges: centro storico dichiarato Patrimonio dell'Unesco è da scoprire perdendosi per le viuzze del centro. Scoprite le botteghe, andate al Lago d'Amore, visitate il Markt e il Burg di Bruges e mangiate Mules e Frites, le cozze con le patatine fritte. Non resisterete!! :)
Gand: anche in questa località l'imperativo è perdersi tra le vie del centro. Da non perdere il Castello dei Conti, il Graslei e il Korenlei, le due banchine che sorgono sul fiume: meravigliose! Ah, attraversate Ponte San Michele e scattate una foto alle Tre Torri!
Per questa tappa del tour i miei compagni fidati sono stati gli stivali Karma of Charme YMIZ (Ve l'avevo detto dopo l'Austria che non ho resistito ed ho preso anche la variante cocco!). Avevo bisogno di calzature decisamente comode per camminare tutto il giorno ma anche calde perchè, come potrete immaginare, in Belgio le temperature sono decisamente rigide! Ah, beh, il Made in Italy e l'artiginalità in questi casi ripagano sempre! Se siete interessate ora sono anche a sconto, le potete acquistare QUI! :)
A voi tutte le foto, spero che vi piacciano <3
QUI PER VEDERE TUTTA LA COLLEZIONE KARMA OF CHARME
QUI PER VEDERE LA PAGINA FACEBOOK DI KARMA OF CHARME
INDOSSAVO..
BOOTS / STIVALI: KARMA OF CHARME (Li compri a saldo QUI!)
PANTS / JEANS: H&M
SWEATER / MAGLIONE: CHOICES
—
QUI PER VEDERE TUTTA LA COLLEZIONE KARMA OF CHARME
QUI PER VEDERE LA PAGINA FACEBOOK DI KARMA OF CHARME
—
 Se hai due minuti ti consiglio..
Lione: prima tappa del nostro viaggio
In Austria, indossando Karma of Charme
Scopri tutti i miei viaggi nella sezione travel
Condividi