Mountain Holidays, Not Only Trekking (Part 2 of 3)
Mountain holidays. Have you read the first part of the diary about my trip on the mountains, yesterday? If you missed it you can find it HERE (It's super juicy!). "And then, what have you done? You'll say… Well, then we went to Stiria, in Schladming. We heard that it is a really beautiful touristic site, especially for trekking lovers. It's a nice and lively village with all the comforts. And we verified that it's as they say.
Mountain Holidays, Not Only Trekking: perennial glaciers, Zip Lane, Go-Kart, Alpine Coaster (Part 2 of 3)
–
We stayed at Falkensteiner Schladming Hotel. I've already stayed at Falkensteiner hotels (twice, HERE and HERE). Every time I've had a great time for three main reasons, and  I was glad to find all three in Shladming too. First of all, the design of of the facility and the rooms: always refined and in line with the location of the hotel combined with the friendly mood that makes you feel at home. In Shladming, our room was covered in wood, super cozy, with a white bed and extra soft duvets, a big sofa, tartan pattern here and there, a design shower stall with panoramic view and a breathtaking landscape from the terrace. When I entered our room for the first time I started jumping up and down for joy: the real alpine style with a classy touch!!
IF YOU MISSED THIS POSTS…
MY STAY AT FALKENSTEINER HOTEL IN GRAZ
MY STAY AT FALKENSTEINER HOTEL IN VIENNA
(THIS POST CONTINUES…)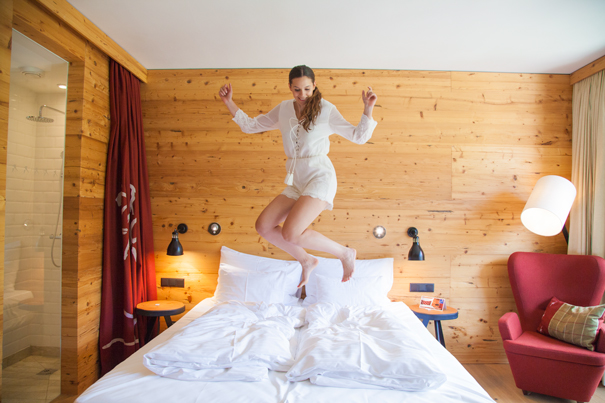 The second reason is food: as you know I'm a foodie and when I'm excited about a restaurant, I can't be more serious. Well, here I found a regal breakfast buffet, an actual feast (and I got addicted to local apple centrifuged juice) and a buffet or à la carte dinner that offered local specialties revisited with a modern touch. And last but not least, the third reason is Acquapura SPA: wellness center (where after an exhausting walk I relaxed with an amazing lymph drainage massage!), indoor and outdoor pool with a wonderful garden for sunbathing, sauna, Turkish baths and a gym.
During our stay in Schladming we also enjoy the trekking and other activities, it was just like they say (I recommend you to stop at the tourist information desk to get all the help you need!), here a list of what we did (you'll see it in the VIDEO that I'll post soon!)
ZipLane: the thrill of flying 160 mt high at an altitude of 700 mt and a speed of 140 km/h. That's all in the video!! Recommended :)))
Mountain Go Kart, a gokart course in the middle of the forest, 5 minutes by car from the town (super cool!)
Mini Golf in the city center (and, as usual, I lost the game)
Alpine Coaster – Ramsau (a roller coaster down the mountain slope!)
Trekking: Neualm – Duisitzkar Corrie Tour from Eschachalm. About 5 hours and 800 mt of difference in height (through the forestal road). Perfect warming-up hiking, nice landscape but nothing special.
Trekking on "The mountain Lake Trail" from Ursprungalm. About 7 hours, it needs a certain endurance for the length of the trail and the presence of exposed ridge paths. Amazing landscapes. I really liked it but I suggest you to bring a lot of water and food..
Trekking Klafferkessel King's tour from Seeleiten Car Park undertal: it lasts 10 hours. We avoided the circular trak(better if you sleep at high altitude, doing 5 + 5 hours) and we opted for the trail to Greifenberg going back on the same road. The view is stunning especially on the waterfall and the suspension bridge. Only for fit because during the the first 6 hours are uphill with difference of altitude of 1000 mt!
Dachstein: reaching the top with the cable car to enjoy a suspension bridge above a perennial glacier (amazing!) and a 45 minutes walk in the snow!!
I hope you liked the second part of my diary from the mountains. See you tomorrow with the third and last episode (it'll be great!!) and on Saturday… get ready for the video!  A big hug!!
THANKS TO
–
I WAS WEARUNG:
DENIM SHORTS/ DENIM SKIRT: Asos.it
WHITE JUMPSUIT: Aeryn Paris
SPORTSWEAR: Dechatlon / H&M
–
IF YOU WANT TO READ MORE:
My stay at Falkensteiner Hotel in Graz
My stay at Falkensteiner Hotel in Vienna


Condividi