A Tutto Stile! by Irene Colzi: my first book, published by Mondadori!
A Tutto Stile!. I still have to realize that I can finally write this for real: I wrote a book. And it's not just any book. "A Tutto Stile! » published by Mondadori and available in bookstores throughout Italy as of September 13th. My book. A crazy year, with crazy amounts of work. A year of "I can't do it!" followed by a series of "Yes, I can do it, come on!". A year in which I gave everything I had to give: a year rich with enthusiasm, hysterical fits, ideas, ups and downs and juggling things better than the best juggler.
It was a year of chapters written in planes, trains, cruise ships, hotel rooms, in the Caribbean, in Asia, in Europe, at the sea and in the mountains, during the night, the day or early in the morning. Writing a book isn't easy; it's a real challenge I had with myself. When I met with the Mondadori team for the first time just over a year ago, I really did think to myself that I would never be able to summarize my ideas and write them all down on paper. I saw it as an insurmountable challenge, especially with the frenetic life I lead.
A Tutto Stile! by Irene Colzi, coming to bookstores near you on September 13th!
Writing a book means taking a step back from the world: only by isolating oneself from everything is it possible to put one's thoughts, feelings and emotions down on paper as vividly as they appear in your mind. And for a multi-tasker such as myself, always on the go, it wasn't easy. I learnt to do it, week after week, month after month, and it wasn't long before the hours spent writing flew by without me even realizing it. Even the pictures in this book are special to me: the unpublished pictures you'll find inside, as well as the cover, were taken by Giova and thought out entirely by ourselves: a book that was 100% created by me, which is something I'm very proud of. Seeing the complete product today gives me a huge sense of joy! "A Tutto Stile!", published by Mondadori is my first book. I still can't believe I actually wrote it! :)
"A tutto Stile!" is a 200 page book focused on who I am now and who I was before you got to know me on the web, and everything I know about style. In this book I'm opening up like never before and featuring all the fashion we love, the accessible kind with a few hints of reasoned madness. The fashion that makes us special. The spine of the book makes this resonate, and is a great preview of what my book is about.
(Continued…)
Irene Colzi was one of the first fashion influencers in favour of low cost budgets, declaring and demonstrating that you can be super fashionable without spending large amounts of money. In this book, after telling you all about the origin of her interest in fashion, Irene answers the questions that many women of every age asks themselves on the difference between being trendy and having style. The book is mostly a concentrate of practical tips that are easily replicable, dedicated to those who don't have a signature style or don't believe they have one. A book to read all in one sitting, but also to never keep too far away when you need to seek advice on how to dress for a special occasion, how to properly organize your own wardrobe, how to match colours wisely, and how to learn to take risks and play with fashion. Because, as Irene claims, you can judge a book by its cover, and fashion is the language that speaks to us all!
I love this book, and I hope you will too. "A tutto Stile!", published by Mondadori, will be available as of Tuesday, September 13th in all bookstores across Italy.
And there's more! We organized a few meet-and-greets during 3 presentations of my book ?
FLORENCE
Tuesday, September 13th at 6:30pm
Libreria Feltrinelli RED – Piazza della Repubblica 26
–
PORDENONE
Friday, September 16th at 7:00pm
Etre Concept Store –  Via della Colonna 33/A in occasion of the "Pordenone Legge" book festival
–
MILAN
Saturday, September 24th at 6:30pm
Mondadori –  Piazza Duomo 1
ALL, ABSOLUTELY ALL OF YOU ARE INVITED! Keep your schedule open and join me if you can: being able to hug you, meet you, take a picture with you, have the chance to chat a bit with you or personally sign your book would make me so happy! You can also come with all your friends: the events are free and open to the public!
More to come… More details on the contents of the book in the coming days on Instagram, Facebook and Snapchat where you'll find me as IreneColzi ?
——-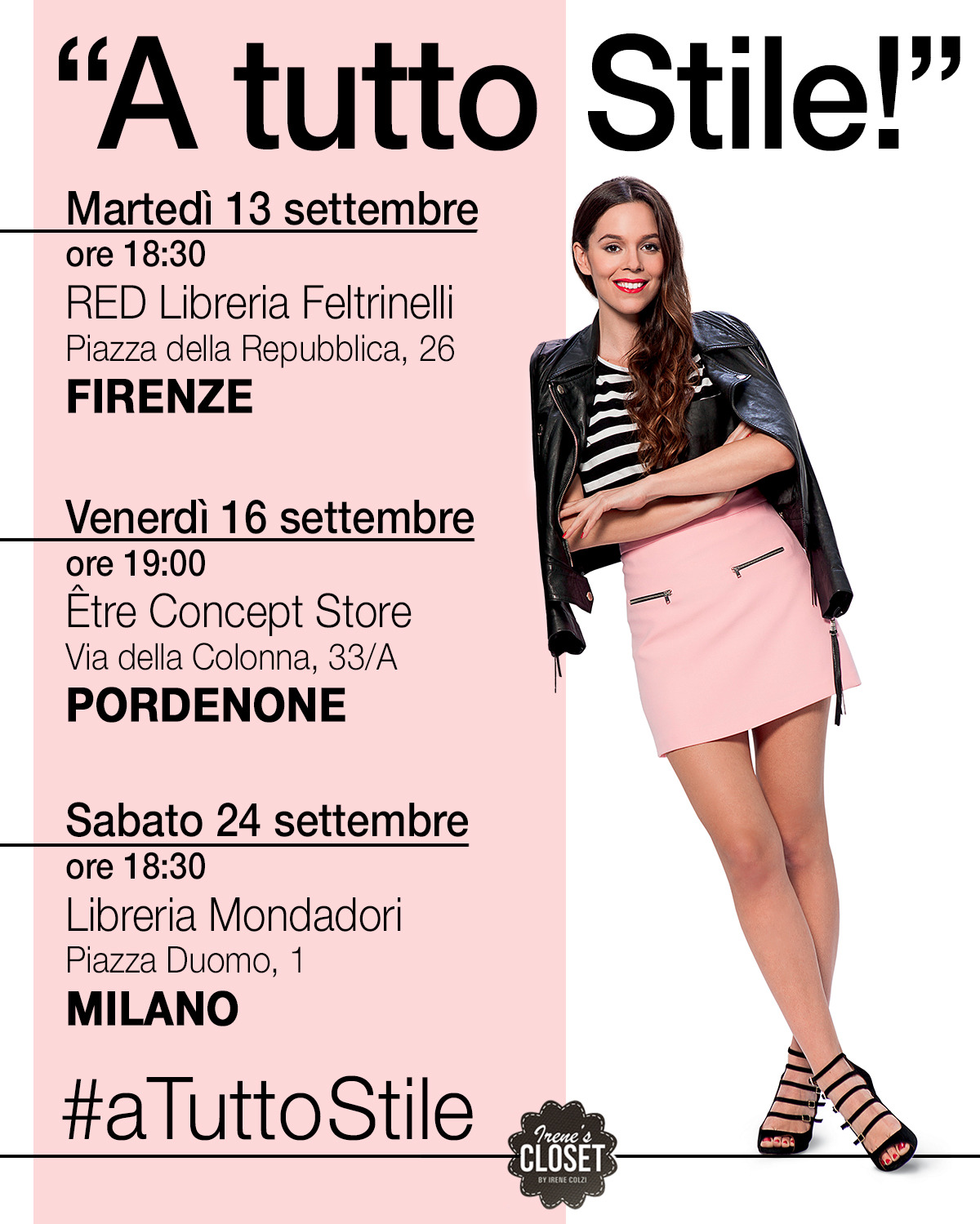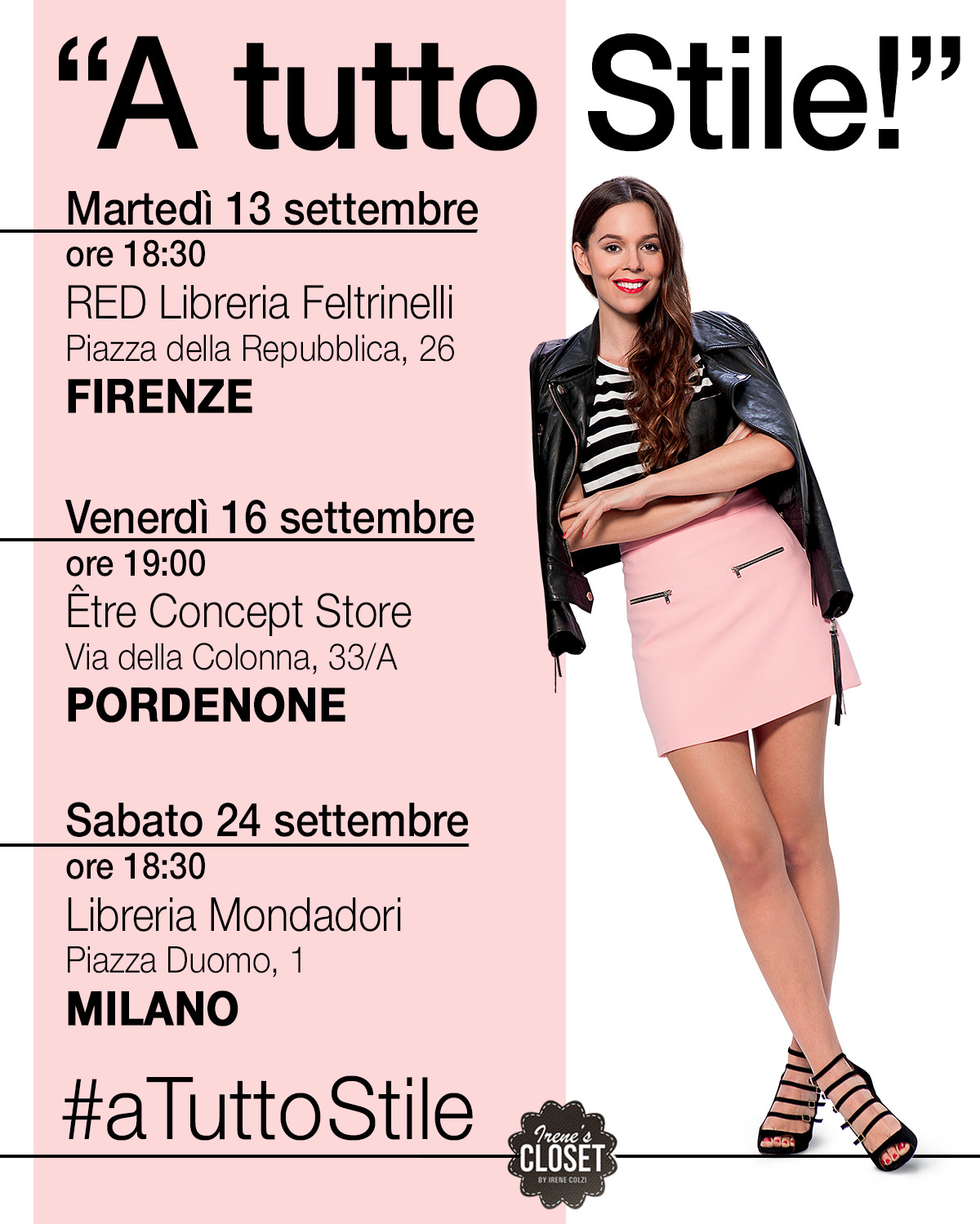 Condividi