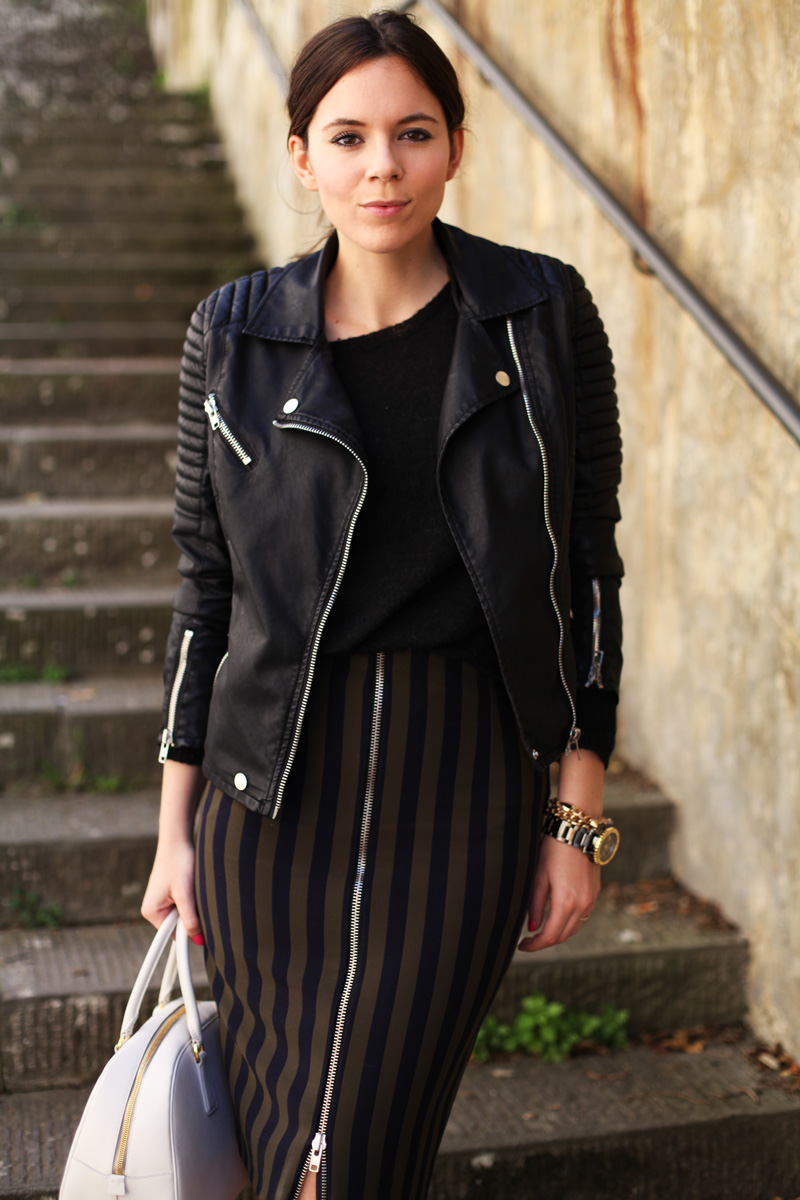 Gonna a righe e una giornata di shopping tra Burberry e Prada in versione lowcost!
Gonna a righe. Mettete una giornata di shopping, mettete un'operazione charity. Sabato scorso, insieme ad alcune amiche, sono andata alla grande inaugurazione di The Vintage Project, un temporary shop presso l'outlet di Barberino, creato in collaborazione con Franca Sozzani e Vogue Italia e che fino a giugno venderà capi di marca (e non) a prezzi davvero stracciati donati dalle redazioni, da celebrities e da stilisti. Tutto il ricavato andrà a finanziare un macchinario molto importante per la ricerca oncologica insieme a fondazione IEO. Così ho acquistato uno splendido trench di pelle di Burberry ad un prezzo davvero stracciatissimo (E Giova invece mi ha regalato un paio di scarpe di Prada divine, grazie amore!). Vi consiglio di farci una visita se siete in zona, presto vi farò vedere i miei nuovi acquisti :)

Gonna a righe ed un look rock!
Per l'occasione indossavo un look comodo ma davvero grintoso ;) Ho abbinato alla gonna righe, acquistata a super sconto da Zara (YEY!), un chiodo in pelle (Che hai già visto QUI), una borsa bianca per illuminare il tutto ed un paio di stivaletti comodi comodi. Che ne dite di questo look? Vi mando un grande abbraccio!
♥
 Last Saturday, together with some friends, I went to the inauguration of The Vintage Project, a temporary shop at the outlet of Barberino, created in collaboration with Franca Sozzani and Vogue Italia, and until June it will sell name-brand (and non) items, at bargain prices, donated by editorial staff, celebrities and stylists. All the proceeds will finance a very important machinery for the cancer research together with IEO organization. So I bought a splendid leather trench by Burberry, at a very low price (and Giova bought me a pair of divine Prada shoes, thanks my love!). I suggest you to go and visit it if you live nearby, I'll show you soon my new purchase. For that occasion I was wearing a comfortable but very gutsy look. What do you think about this look? I send you a big hug!