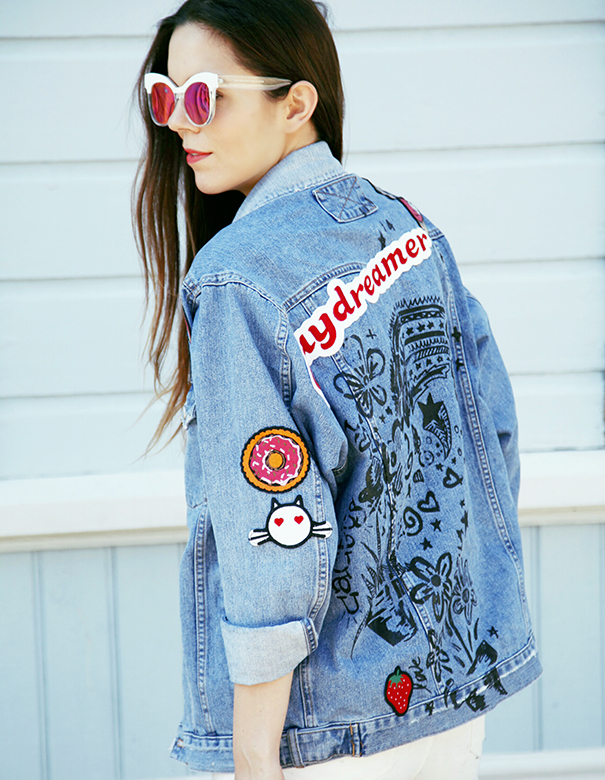 Personalizing your jeans!
Personalizing your jeans.  Now more than ever before the words PERSONALIZE or CUSTOMIZE have become part of our vocabulary. Differentiating oneself is at the frontier of fashion, and it's all about not conforming and having pieces in your closet that are not only unique but that help you affirm your uniqueness and distinguish yourself. This is how the trend of personalizing clothing was born, especially with denim. Why personalize your jeans? Because with jeans you have free reign, because jeans are easy to personalize, because it's rather frequent to have a few extra pairs in your closet and therefore you aren't taking that big of a risk personalizing and working on them.. Isn't that true? To follow the latest trends in denim, I gathered some pictures – examples of the season's coolest pieces, that you can easily recreate at home with a little bit of manual work. What do you need? Fabric glue, pens for fabric, patches, pieces of cloth, little pearls, sequins.. and a lot of creativity!
Personalizing your jeans: ideas to customize your denim at home!
—
Need more specific ideas as to how to personalize your jeans?
– WRITE YOUR NAME OR A QUOTE ON THE BACK: with an indelible fabric marker.
– LOOK FOR THE COOLEST PATCHES AT THE FLEE MARKET: and create something on the sleeves, chest or back.. or on the leg of the pants! Don't be afraid to use them abundantly!
– OPT FOR LITTLE PEARLS AND SEQUINS: this is a bit more complicated given that these need to be sewn on, but the result is beautiful!
– SCRAPS OF FABRIC (EVEN DENIM ON DENIM): cut scraps of colourful fabric from old clothing you no longer wear or from different coloured jeans and create a patchwork on your pants or jean jacket ;)