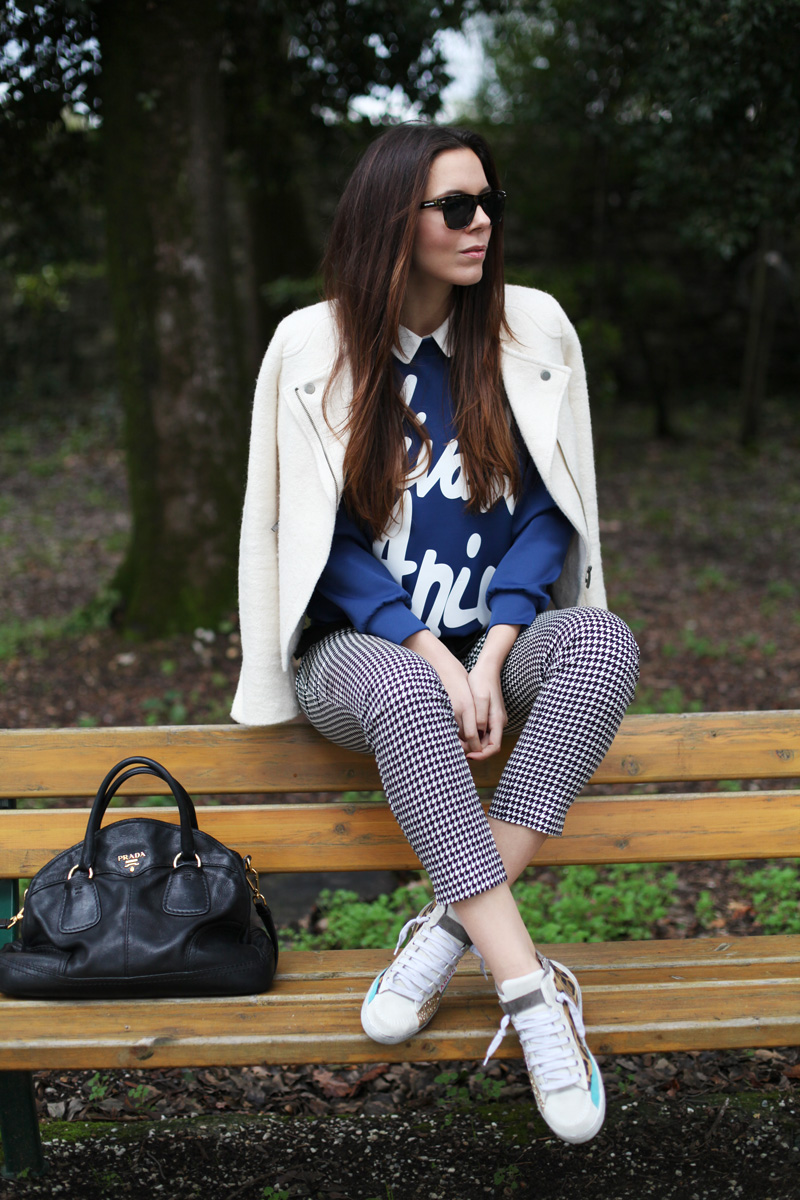 Felpa must have, pied de poule, leopard e glitter!
Felpa must have. Ci sono dei giorni nei quali voglio soltanto la comodità. Ecco, questi giorni sono stati così! Un po' influenzata (ci credo, con questa pioggia senza sosta come potrebbe essere altrimenti?!) ma con mille commissioni da fare prima dell'inizio della prossima settimana che pone inizio ad un febbraio pieno fino alla fine (Poi vi dirò..). Certo, stare comode non significa rinunciare agli abbinamenti carini, ad essere alla moda. Non significa avvolgerci in abiti sformati e/o senza un perchè! Giusto?
Quando voglio stare comoda i miei must sono:
– Un paio di sneakers comode comode. Banditi i tacchi e avanti tutta scarpe basse, mi piacciono i modelli particolari o evergreen: le classiche Converse su outfit casual – chic o sneakers particolari (Come QUESTE).
– Una borsa capiente, enorme, per infilarci tutto il mio mondo (Questa per esempio è davvero gigantesca!).
– Un paio di occhiali da sole, soprattutto quando non ho voglia di truccarmi troppo.
– Una felpa calda e avvolgente che però sia divertente e ad alto tasso fashion (Vi ricordate i miei consigli per gli acquisti?)
Così, con questi must, ho creato l'outfit di ieri pomeriggio scattato durante una passeggiata al parco appena prima di pranzo (Sììì, non pioveva, che meraviglia!). Indossavo la nuova felpa must have della stagione primavera / estate 2014 di Aniye by (Puoi comprarla QUI) che ho deciso di abbinare ad un paio di pantaloni pied de poule (Vi ricordate?) e ad un paio di sneakers che adoro: da una parte glitter, da una parte leo. (Puoi comprarle qui!). Fantastiche! Che ne dite di questo look ragazze? Aspetto i vostri commenti! Un abbraccio!
♥
There are some days in which I just want to be comfortable. To be comfortable doesn't mean parting with nice clothes or to give up to be fashionable. It doesn't mean wearing deformed and non-sense clothes! Right? When I want to be comfortable, my musts are: – a pair of very comfortable sneakers – a huge and spacious bag – a pair of sun glasses – a warm and enveloping sweatshirt, but funny and very fashionable So, with these musts, I created the yesterday's outfit, shot during a walk in the park just before lunch. I was wearing the new Aniye by sweatshirt, a must-have of next spring/summer 2014, that I matched with a pair of hound's-tooth trousers and a pair of sneakers that I love: glittering from one side, and leopard from the other. What do you think of this look, girls? I wait for your comments! A hug!