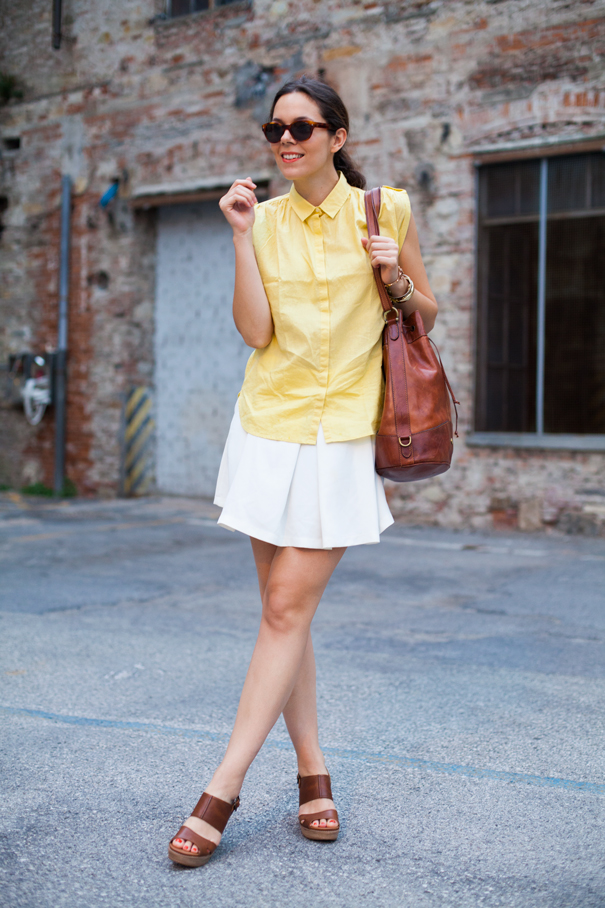 What to Wear When It's Super Hot.
What to wear when it's hot. Hi my friends! Here in Florence I fell like the city is a giant (beautiful, of course) oven. As soon as I step out my natural environment during hot days, that's to say everywhere I find air conditioning my one and only thought is: "Where is the sea?! I need it! NOW!". How can pretty ladies like as can survive the steaming weather of July in the city? What can we do to be amazing without melting away? What to wear when it's hot? Dress + sandals is the easiest option (Do you remember my Timberland gladiators?) but if you fancy something more elegant and formal for the day try this outfit. I wore it two days ago for some work appointment in my Florence.
What to wear when it's super hot? My city uniform!
–
Short skirt,of course. But remember the rule  naked legs, at least in the city, means cover the top. So I chose a shirt by Timberland, very versatile in the coolest vitamin color for this season, lemon yellow  (Now it'is on sale, find it here!) and is made of a super light cotton-linen fabric. At last I match the outfit with leather accessories that, now that 70s are back is perfect this summer. A bag from my mum's closet, and a pair of wedge sandals by Timberland. I love them because they're high and super comfortable (Find them on sale HERE).
What do you think about this attire? I hope you like it!! Waiting for your comments:)))
SEE ALL THE TIMBERLAND COLLECTION AND SHOP ONLINE  (NOW ON SALE!!)
P.S. to learn more read:'70 Fashion is back, Fashion Mistakes to avoid in the city ;)