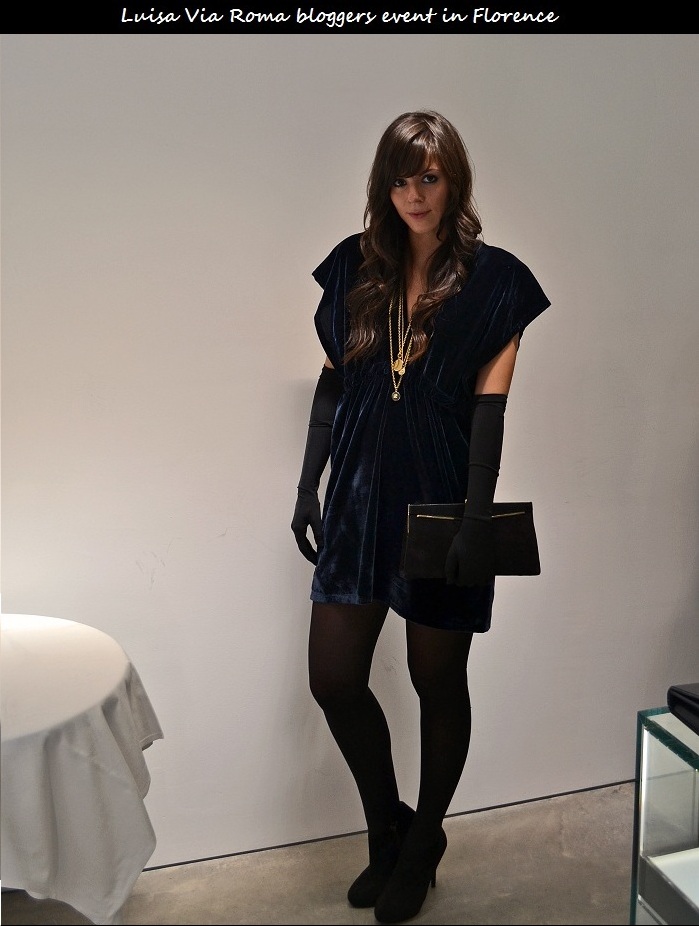 Un total look firmato
Boutique Nadine
per l'outfit per l'evento
Firenze4ever it's magic
organizzato da
Luisa Via Roma
nella sua prestigiosa boutique a Firenze. Per la serata, un dinner party organizzato per più di
100 bloggers,
ho indossato
un vestito disegnato da Boutique Nadine in velluto blu notte
accompagnato da una pochette vintage e
tre collane create recuperando bottoni di abiti vintage Chanel.
Vi consiglio davvero una visita da Boutique Nadine quando passate da Firenze: è proprio accanto a Ponte Vecchio (visto quanto è bello di notte?). Trovate tutte le informazioni a riguardo nella mia
guida allo shopping
qui
. Con questo outfit mi sono goduta una divertente serata insieme a
vecchi e nuovi amici bloggers:
My fantabulous world, Pensieri in stand-by, Mix and Match, il blog di Rano, a dream called fashion, Stylosophique, Je Veronique, Italian Fashion Bloggers, Neovecchio stile, The old now, Low High Fashion, The gummy sweet, The red girl smile, My cup of coffè, Shampalove, Barbie Laura, The curly Lady, May love fashion, Loving Chiara Deanna, The cheap diamonds, Eleonora Carisi, Nobody Knows Marc, La moda secondo Erre, The closet! Tutte persone stupende: un bacio a tutti voi!
▪▪