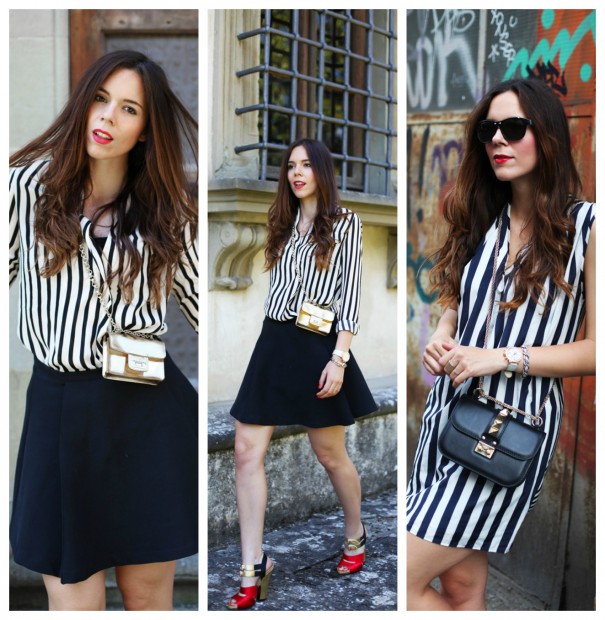 Matching Stripes
Matching Stripes.  What pops up in your mind when you think of stripes? I always imagine a beach outfit to wear while eating an ice-cream on the marina, during summer holidays. Ah that's wonderful!! Black and white stripes, a pair of sandals, Panama hat, shorts and a shoulder bag. Ready to go!! But, why not, also in town stripes can be OK: extremely elegant e super cool this summer (Take a look at the designers' proposals on the catwalk…).Have you got any idea for a striped city outfit?
Matching Stripes. From the City To the Seaside… and Back!
—
HORIZONTAL OR VERTICAL? you've probably heard it a thousand time, but, it's worth repeating: horizontal stripes make you look broader while vertical stripes had a slimming effect. This a visual effect. So stripes can help us with our shapes: pick horizontal striped t-shirt and shirts if your torso is smaller than hips and legs and vice versa. The effect is guaranteed!
STRIPES WITH.. STRIPES, POLKA DOTS OR FLORAL PRINT. Is a Trend! Match stripes with stripes (with different thickness and color) or with polka dots or floral print. Try it yourself! (or just copy & Gabbana!)
ONLY ONE DETAIL.. SHOES!: What about just one striped accessory? Pick striped shoes: surprising and fun!
–
P.S. DO YOU WANT TO SNEAK A PEAK TROUGH MY OUTFITS WITH STRIPES? 
Have fun with my new search engine! If you don't know how to match an item or you simply feel like snooping into my closet… choose a garment or an accessory then pick the color. You'll find all my outfits with this particular clothing item in the color you picked. Try it! http://www.ireneccloset.com/looks
–