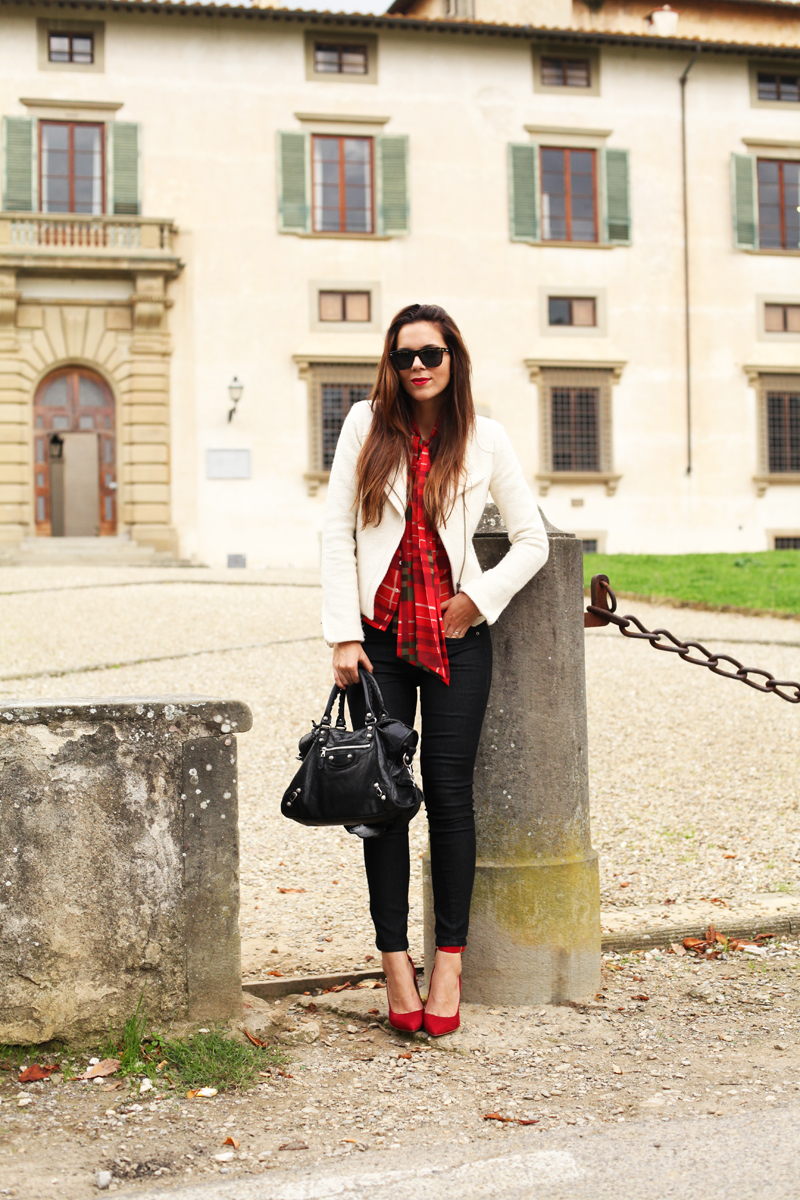 Tacchi rossi alti alti prima del ponte. Yuppy!!!
Tacchi rossi. Buongiorno bellissime!! Vi scrivo con un sorrisetto sul viso, perchè? Oggi è Halloween (Vi ricordate l'anno scorso??) e lo trascorreremo con amici carissimi che mi mancano tanto perchè a causa dei mille viaggi dell'ultimo mese non siamo riusciti a vedere. E poi domani è festa, yuppy!! E poi sabato e domenica :) Sono prontissima per questo luuuungo weekend di festa dove devo assolutamente ricaricare le batterie prima di ripartire la prossima settimana per la prossima meta. E poi ne approfitterò per farvi vedere, qui sul blog, dei post davvero bellini: quindi se anche voi siete a casa e avete tempo di passare da Irene's Closet con calma vi aspetto in questo lungo weekend di ponte :) Dunque, che dirvi. Sono una cattiva blogger. No, è vero. E' davvero da un sacco di tempo che mi vedete sul blog in scarpe basse (L'ultima volta che ho messo i tacchi è stato in Ucraina a Kiev!). La verità è che un po' sono fortunata per l'altezza, ma dall'altra, sto letteralmente collezionando scarpe flat stringate, mocassini, di tutti i gusti e generi. (Se anche voi avete voglia di nuovo shopping date un'occhiata a Drezzy dove potete trovare sconti interessanti anche sulle scarpe flat!). Ieri però, c'è da dirlo, un bel paio di tacchi per essere all'altezza della mia felicità erano proprio dovuti: poi rossi, voglio dire, il massimo. Ho optato così per un outfit giocato tra il rosso e il bianco, però sempre con una certa grinta. Che ne dite? Aspetto le vostre opinioni, sono proprio curiosa! Un abbraccio forte!!
Oggi vi consiglio di leggere un'altro post con delle scarpe rosse speciali e altre idee outfit per l'autunno inverno 2013  :)))
♥
Good morning beauties!! I'm writing with a little smile on my face, why? Today it's Halloween and we're going to spend the day with my dear friends who I miss a lot because, due to my million travels of this last month, I haven't been able to see them. And moreover, tomorrow it's holiday, yuppie!! And then Saturday and Sunday. I'm ready for this looooong weekend when I absolutely need to recharge the batteries before starting the new week for my next destination. And I will also take the chance to show you, here on my blog, some really nice posts: so if you are home too and if you've got the time to have a look at Irene's Closet, I wait for you during this long weekend. Really it's been a long time that you see me on my blog wearing flat shoes. The truth is that I'm a bit unlucky for my height, but also I am literally collecting flat shoes with lace, moccasins, of any taste and kind. But yesterday I wore a pair of red heels, I mean, the best. So I opted for an outfit that plays with red and white, but still with a certain determination. What do you think? Waiting for your opinions, I'm really curious! A big hug!