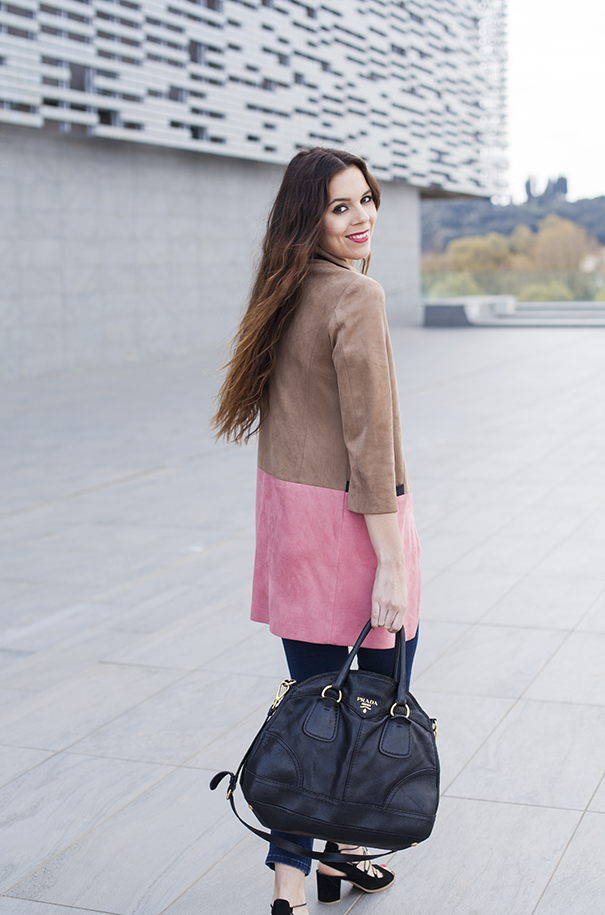 Suede jacket, touches of pink and embellishments: my daytime look!
Suede jacket. "Wear a colour block suede jacket, and you'll conquer the world!". I've decided this is my motto at the moment! I saw it and fell totally in love: I'm talking about this jacket – colour block suede by Lamarca (shop it HERE). Colour blocking is very in this season, and this combination of pale pink and suede is amazing, plus these colours go really well together, don't you think? Therefore this jacket was the key piece of one of my recent outfits, between casual and chic, worn for a morning of dashing about, combining 3 different trends of this season: pink, suede, embellishments…
Suede jacket, touches of pink and embellishments: 3 trends in one daytime look!
–
I decided to pair my new must have jacket with casual daytime separates for a casual-chic look that combines elegant touches with more casual elements. A pair of skinny jeans with pink details, that you can find online here, while to keep up the pink trend (didn't I tell you that, together with blue, this is this season's biggest colour?!), an embellished t-shirt, with patches and jewels, in keeping with the customisation trend of this season (find the t-shirt here), and black accessories for a chic touch.
What do you think of this look? I'd love to hear your comments!
CLICK HERE TO SEE THE ENTIRE LAMARCA COLLECTION FOR THIS SEASON (Have you seen the mini-dresses? Aaaah!)