Irene Colzi, nata nell'agosto del 1987 a Firenze, è laureata presso la Facoltà di Economia di Firenze ed è blogger professionista dal 2009 per Irene's Closet e contributor per varie testate e supplementi editoriali online. Irene apre il suo blog nell'ottobre del 2009, durante il periodo della stesura della tesi di laurea: un luogo dove mostrare la sua passione per la moda, la sua passione per il web, la comunicazione e la scrittura, in lei fin da sempre. Il giorno successivo la sua laurea, nel febbraio del 2010 Irene è alla settimana della moda di Milano come inviata speciale e contributor di DonnaModerna.com e, da quel momento, il suo blog diventa uno dei più importanti di Italia e sua professione full time.
Irene diventa così uno dei
 volti della campagna pubblicitaria di OVS INDUSTRY per la stagione invernale 2010 – 2011 come rappresentante della categoria "Bloggers", fotografata da Scott Schuman e blogger ufficiale per Donnamoderna.com durante la Fashion Week di Milano nel febbraio 2010, settembre 2010 e febbraio 2011. Tra aprile e giugno 2011 ha intrapreso un tour per la rivista italiana TU Style, insieme ad un team, come blogger ufficiale di un progetto di fotografia streetstyle per le maggiori città italiane per poi cimentarsi nella prima esperienza come stylist per un marchio di moda: lo styling per la campagna autunno inverno 2011 – 2012 di Westrags a Porto (Portogallo).
Ecco un riassunto dei principali progetti di questi anni.
Nel 2012 ha lavorato con

Samsung

per la realizzazione di un video promozionale per il lancio del nuovo cellulare Galaxy Nexus e per l'evento di lancio che si è tenuto ad Excelsior Milano, è stata ospite di

Luisa Via Roma

per lo stylelab con i bloggers internazionali ed ha partecipato al progetto di lancio della nuova

Twizy Renault

a Bologna con un video del test drive con un personaggio della televisione italiana. Irene poi è stata chiamata come giurata per l'elezione della web testimonial del marchio

TOY G

, giurata della categoria Youngh Talent 2012

Wella

durante i

Wella Trend Vision Award Italia

ed è stata l'unica blogger al mondo ad essere invitata come reporter alle finali dei Wella Trend Vision awards 2012 a Madrid. Irene ha anche effettuato un intervento durante una lezione di "Web Marketing" al

Polimoda di Firenze

. Ha viaggiato a New York per

Kerastase

, a Madrid per

Aristocrazy

, a Barcellona per

Pronovias

e a Londra per

Asos

. Ha intrapreso il tour "A touch of Pink" per

Coccinelle

(Presso gli store di Milano, Forte dei Marmi, Taormina), il tour "Christmas Tour" con

Silvian Heach

(presso gli store di Milano, Torino, Reggio Emilia, Genova, Roma) ed il tour "Denim" di

Guess

(store di Milano, Torino, Roma, Firenze). E' stata ospite per la VFNO di Milano di Silvian Heach, per la VFNO di Roma e Firenze per

Fornarina

insieme a Melissa Satta e a Roma per l'opening della boutique "The Fifth season by

Roberto Coin

".
Nel 2013 Irene è stata ospite di

 Dior

 a Parigi per il lancio della nuova collezione Dior Addict nel gennaio 2013 e nel dicembre 2014 per la mostra Miss Dior insieme ad alcune tra le bloggers più famose d'Europa. Si è recata a di nuovo a Parigi per

Prada e Printemps

, a Ginevra per 

Swarovski

, nel cuore della Toscana per 

Ferragamo

 e la tenuta Il Borro,  a Barcellona per 

Pronovias

e per

Stradivarius

, a Ibiza e Formentera con

Fabi

, a Kiev con Obrani, in Belgio per l'ente del turismo di Anversa, in Provenza per 

Red Soul

 insieme alle blogger internazionali ed infine a Monaco per la nuova community Stylight. Il secondo semestre del 2013 ha segnato l'inizio di un

progetto – placements con Gucci

che continuerà per il primo trimestre del 2014. Irene è stata blogger ufficiale del grande opening del nuovo negozio

Bershka

a Bologna, continuando così la sua collaborazione con il gruppo Inditex, ospite di Motivi durante la Vogue Fashion Night insieme a Giorgia Palmas ed infine ospite di

Pucci

per le Journées Particulières. Nel 2013 Irene ha poi lavorato con brand del settore beauty come Chloè parfum, Valentino parfum, Clarins ed ha riconfermato la sua collaborazione con Dior e Wella.  Per il settore tecnologia Irene ha lavorato con

CANON

per il lancio della nuova PowerShotN, con

Samsung

per GalaxyCamera, Samsung Galaxy S4, Samsung Galaxy S4 zoom e con

Windows Phone e Nokia

durante la settimana della moda febbraio 2013.
Nel primo semestre del 2014 Irene ha partecipato a 

Sanremo 2014

 come testimonial Limoni e La Gardenia (con creazione del reportage vota il look  by Irene per Panorama.it) ed è stata scelta per il progetto

Touche Eclat by Yves Saint Laurent. 

Irene è stata scelta come ambassador di

The Bridge

per la collezione Brera 2014. Il 22 aprile Irene è stata intervistata in diretta su Radio Deejay e sul canale Deejay TV dal programma

"Deejay chiama Italia"

. Ha partecipato al progetto sociale "Una vita da social" insieme a Leonorardo Pieraccioni in collaborazione con la Polizia Postale ed ha sostenuto il progetto charity "The Vintage Project" con Vogue Italia presso l'outlet di Barberino. Il primo semestre del 2014 ha segnato poi l'ampliamento delle tematiche del blog Irene's Closet sulla strada del lifestyle a 360 gradi: da menzionare la

collaborazione con l'ente del turismo dell'Australia del Nord

in Australia per promuovere in Italia l'Australia del Nord tramite i canali Irene's Closet. Altri progetti al quale ha lavorato: servizio di advisor / personal shopper per Hoss Intropia a Roma e Kiabi a Vicenza; partnership con Braccialini, Aldo Shoes,Voile Blanche, Geox, Guadi, Pin Up Stars, Comptoir des Cotonniers, Golden Lady, Mabina, viaggio – reportage a Parigi per Clarins, intervista al CEO di Ice Watch a Basilea, promozione di Forte Village in Sardegna. Ha partecipato in veste di special guest ad eventi quali: opening Pull & Bear in corso vittorio emanuele a Milano, opening Benetton in Piazza Duomo a Milano. Ha partecipato alla

71esima edizione del Festival Internazionale del Cinema di Venezia

insieme a GHD
Per vedere i progetti più recenti, QUI.
RICONOSCIMENTI
Irene's Closet è stato nominato nella categoria "Best Style" durante gli Stylight European Fashion Blogger Awards 2014 di Berlino, rientrando nella top 3 della categoria in Europa.
Irene's Closet è stato nominato tra i migliori dieci siti di moda e beauty ai Macchianera Awards 2014.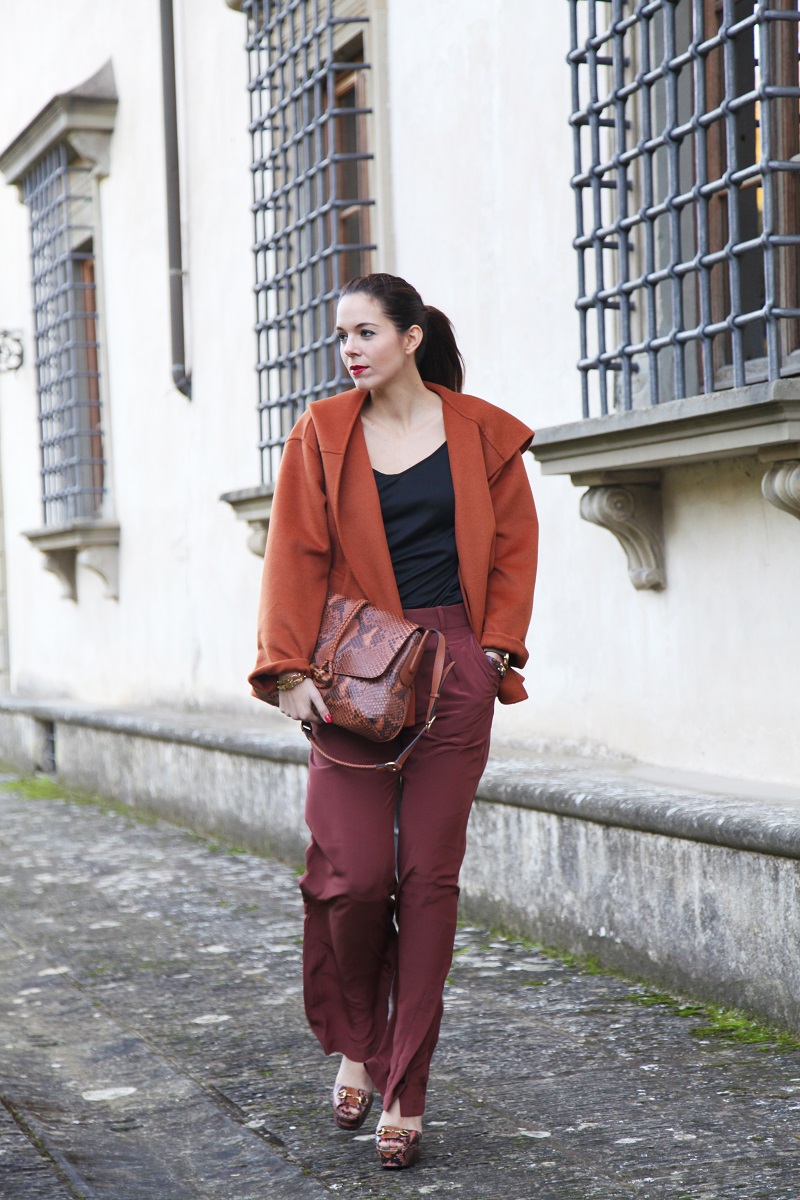 PRESS: Company UK (Inghilterra) (febbraio 2013 e agosto 2013),  HONG KONG WEEKLY WEEK MAGAZINE (11 pagine), Female Mag Malesia, Cosmopolitan (agosto 2012, novembre 2011 e marzo 2011), Gioia, Grazia, TU Style (marzo 2013, aprile e giugno 2012, agosto 2010), Glamour Italia, Diva & Donna, White Sposa, Swarovski international Magazine, Life People, TM donna, Corriere della Sera, il Piccolo e Leggo.
WEB MAGAZINES: Vogue UK, Vogue Italia, Vogue India, Cosmopolitan Italia, Elle Spagna, Elle turchia, Elle.com, Fashionologie, Glamour.com, Glamour.de, Glamour.es, Style.it, Grazia Italia, The Sartorialist, MTV.IT, Pitti Immagine, Stylosophy, Fashion Magazine, Leichic borse, Te la do io Firenze, Paperblog, Pourfemme, Walk on Job, Cultura e Culture, La Repubblica.it e nelle homepage di siti quali Silvian Heach, Coin, OVS, Stradivarius, Fruscio, Iceberg, Peroni, Dimensione Danza, Motivi, Oysho e Privalia.