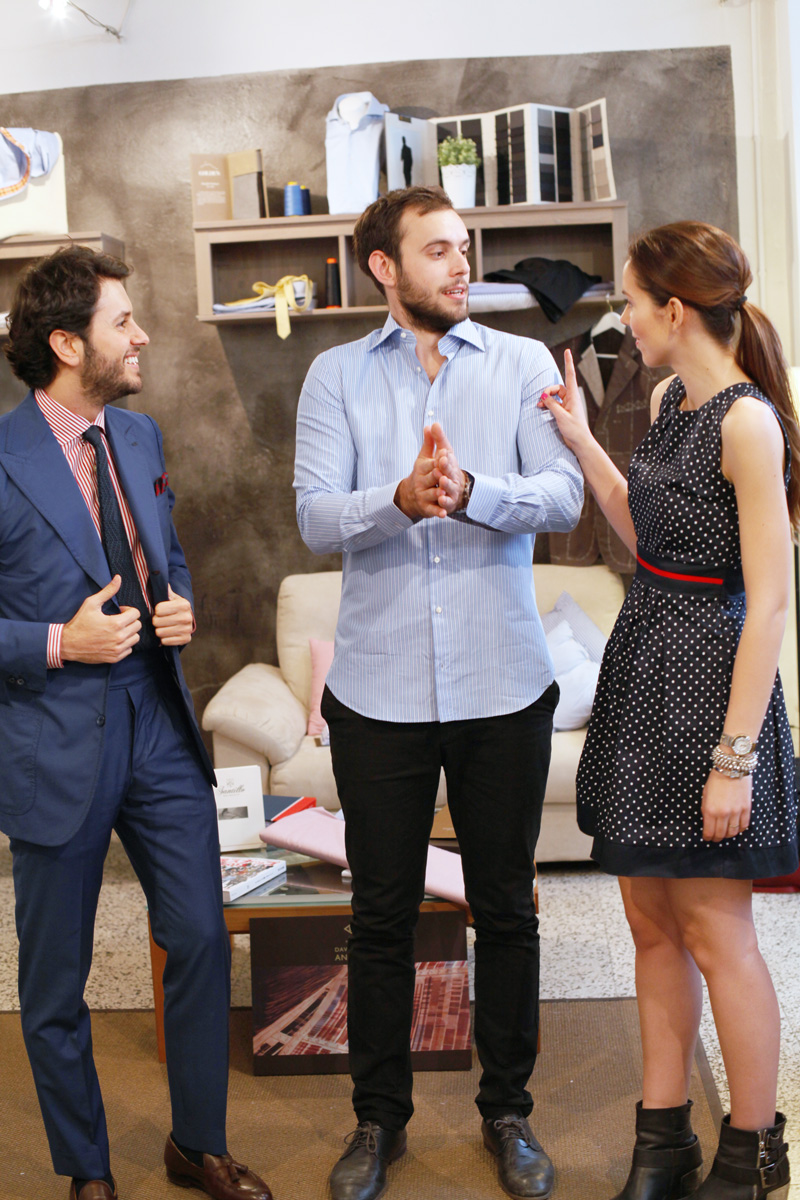 Camicia su misura Milano: perchè la qualità conviene (e non tutti lo sanno!). Special guest, Giovanni!
Camicia su misura Milano. Conosco Fabio Attanasio per caso. Lui sul suo blog The Bespoke Dudes parla del Bespoke. Io dell'universo maschile so ben poco, ammetto la mia ignoranza. Così chiedo a Giova: "Amore, ma cos'è il bespoke?". Ovviamente Giova non lo sa. Giova è un tipetto vanitoso ma quando a moda maschile sa ben poco (A questo punto sa più della moda femminile, quando per la strada ha riconosciuto una Balenciaga per poco non cadevo dal marciapiede, per dire). Così, da qui, nasce quello che è diventato il post che vedete oggi, alla scoperta del Bespoke, un qualcosa di storico e tradizionale, ai più sconosciuto e ritenuto ingiustamente snob: la camicia su misura, fatta non per il cliente, ma sul cliente e con il cliente e realizzata a mano. Io sono rimasta talmente affascinata da questo mondo e Giovanni (stranamente ma comprensibilmente) come me, che oggi abbiamo deciso di saltare la moda femminile e passare a quella maschile.
Camicia su misura Milano: cronaca di un pomeriggio in mezzo ai maschietti!
Tutto inizia una settimana fa a Milano. Ci incontriamo con Fabio difronte la sua sartoria di fiducia: dopo aver scoperto cos'è il bespoke Giovanni la sua camicia su misura e fatta a mano (ma sul serio, non per finta!), la voleva assolutamente e visto che noi eravamo già a Milano e avevamo voglia pure di incontrare Fabio ci siamo addentrati in un laboratorio artigianale che ci ha aperto un mondo, Santillo 1970, sartoria artigianale a conduzione familiare e di origine napoletana che crea camicie e abiti completamente a mano (completamente!) e su misura. Potete leggere il procedimento per creare una camicia su misura e anche come si riconosce una camicia su misura come si deve nel post di Fabio QUI.
Il risultato è una camicia su misura plasmata sul tuo corpo, completamente cucita e realizzata a mano e che riesce così a nascondere quei piccoli difetti come asimmetrie e pancetta che mai un altro tipo di camicia potrebbe fare. Ma al di la della qualità, quello che mi ha colpito e che mi ha spinto poi a creare questo post diverso dal solito è il costo. Pensate che le camicie su misura abbiano costi proibitivi e siano esclusivamente snob? Na, niente affatto. State tranquilli maschietti che se acquistate una camicia di marca, non creata su misura per voi ma presa dalla "grande distribuzione di lusso",  potete arrivare a spendere 3 – 4 volte tanto. Ecco a voi il risultato di un pomeriggio immersi nel mondo del bespoke. Vorrei ringraziare ancora una volta Fabio di The Bespoke Dudes per la favolosa idea e  Santillo 1970 per l'ospitalità!
Ora aspetto le vostre idee!! :)
♥